The last few weeks have been busy for team Campfire. Week 7 was spent attending GDC, where Seth and Phan showed off their previous ETC project "Music Everywhere" at the ETC booth. Sarabeth and Roy attended the conference and expo.
Before departing for GDC, the team worked on settling up a story and game plan for the time leading up to our Halves presentation. Story-wise, we've settled on creating an interaction with War of the Worlds (Radio broadcast) as an inspiration. Sarabeth met with Chris Klug before departing, to talk through some story structure questions, and after a draft of the story is complete, planned a table reading with both Ralph and Scott the following week.
The week after GDC, Seth and Sarabeth fell prey to a conference illness, which derailed some development for the week.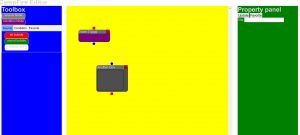 Phan and Roy continued technical development, updating and improving the intent system, as well as creating a story editor for Seth and Sarabeth to use as we start to integrate the design elements into our technical foundation.
This week during Spring Break, the team will be meeting to go over the first draft of the story, create our presentation for next week, and meet with Scott to give a project update.