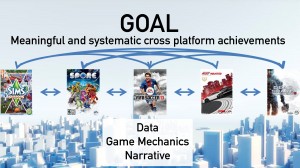 Underway
After narrowing down the list of potential game ideas down to three and then polishing them, we presented them to the OCCO team on Tuesday.  Rich Hilleman was in attendance, and he provided tremendously useful feedback to help us pick the final concept.  His astute observations helped us see the pros and cons of each idea were considering by looking at how much time he and the rest of the OCCO team thought we would have to spend on each idea, if there was an even distribution of the workload in the proposed project, and if it would be fun for other people to play.
After listening to the OCCO's feedback, we have deliberated throughout the rest week to pick which game concept to choose.  In the end, we chose Rule the Tides, a real-time naval combat game that utilizes both predictive combat and tactical pathing to make a thoroughly entertaining experience.  We feel that this particular concept not only had the greatest player accessibility and was the most intuitively fun of all of our pitches, but it was the only one that could be iterated on multiple times throughout the semester.  This last quality allows us to better refine our end product and remove as many bugs and issues as possible.
Now that we have a singular game idea for our project, we can move forward.  We compiled a project backlog, which lists all of the major priorities of the experience and let us know which tasks need to be accomplished first.  We then made a sprint chart, which breaks down the highest priority tasks into smaller, more manageable ones.  With this in place, the team has an easy time knowing what must be done, who is doing it, and how far along a given task is.  The team has also agreed to meet every weekday at 10 am to do our daily scrum, a meeting where we stand in front of each other and say what we did yesterday, what we plan to do today, and if we see any foreseeable problems.  This holds all of us accountable to each other and helps to stop problems before they start.