Issue 1: The Semester Begins!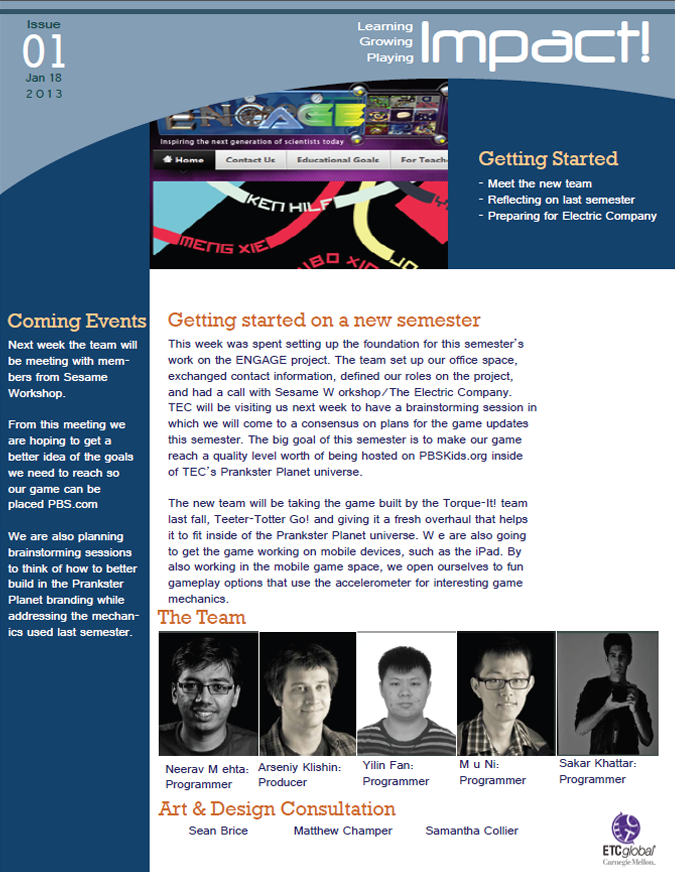 This week was spent setting up the foundation for this semester's
work on the ENGAGE project. The team set up our office space,
exchanged contact information, defined our roles on the project,
and had a call with Sesame W orkshop/The Electric Company.
TEC will be visiting us next week to have a brainstorming session in
which we will come to a consensus on plans for the game updates
this semester. The big goal of this semester is to make our game
reach a quality level worth of being hosted on PBSKids.org inside
of TEC's Prankster Planet universe.
The new team will be taking the game built by the Torque-It! team
last fall, Teeter-Totter Go! and giving it a fresh overhaul that helps
it to fit inside of the Prankster Planet universe. W e are also going
to get the game working on mobile devices, such as the iPad. By
also working in the mobile game space, we open ourselves to fun
gameplay options that use the accelerometer for interesting game
mechanics.
Team
Neerav M ehta: Programmer
Arseniy Klishin: Producer
Yilin Fan: Programmer
M u Ni: Programmer
Sakar Khatta: Programmer
Art & Design Consultation
Sean Brice
Matthew Champer
Samantha Collier