Issue 11: Return From GDC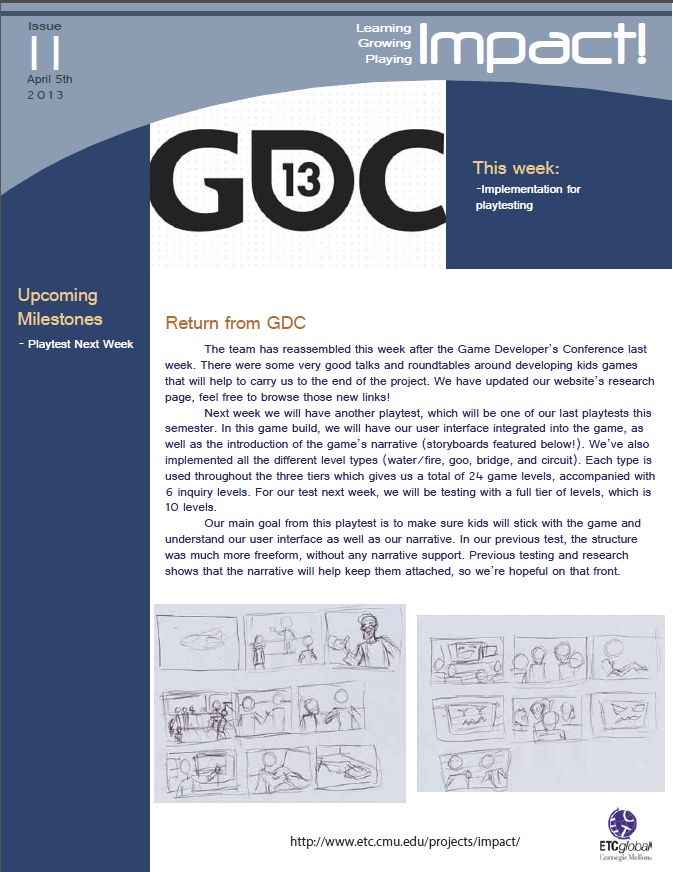 This Week:
-Implementation for playtesting
Return from GDC
The team has reassembled this week after the Game Developer's Conference last week. There were some very good talks and roundtables around developing kids games
that will help to carry us to the end of the project. We have updated our website's research page, feel free to browse those new links! Next week we will have another playtest, which will be one of our last playtests this semester. In this game build, we will have our user interface integrated into the game, as well as the introduction of the game's narrative (storyboards featured below!). We've also implemented all the different level types (water/fire, goo, bridge, and circuit). Each type is used throughout the three tiers which gives us a total of 24 game levels, accompanied with 6 inquiry levels. For our test next week, we will be testing with a full tier of levels, which is 10 levels. Our main goal from this playtest is to make sure kids will stick with the game and understand our user interface as well as our narrative. In our previous test, the structure was much more freeform, without any narrative support. Previous testing and research shows that the narrative will help keep them attached, so we're hopeful on that front.
Upcoming Milestones
– Playtest Next Week