Issue 14: Soft Opening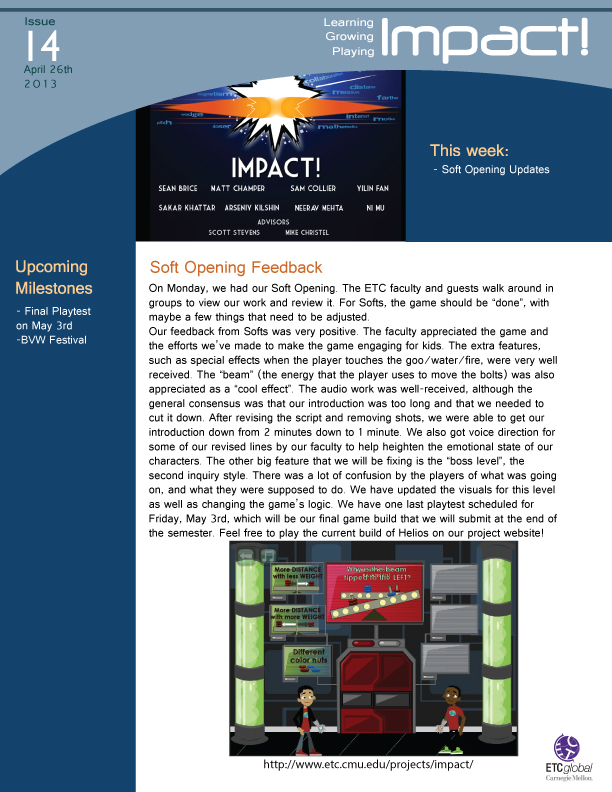 On Monday, we had our Soft Opening. The ETC faculty and guests walk around in groups to view our work and review it. For Softs, the game should be "done", with maybe a few things that need to be adjusted.
Our feedback from Softs was very positive. The faculty appreciated the game and the efforts we've made to make the game engaging for kids. The extra features, such as special effects when the player touches the goo/water/fire, were very well received. The "beam" (the energy that the player uses to move the bolts) was also
appreciated as a "cool effect". The audio work was well-received, although the general consensus was that our introduction was too long and that we needed to cut it down. After revising the script and removing shots, we were able to get our introduction down from 2 minutes down to 1 minute. We also got voice direction for some of our revised lines by our faculty to help heighten the emotional state of our characters. The other big feature that we will be fixing is the "boss level", the second inquiry style. There was a lot of confusion by the players of what was going on, and what they were supposed to do. We have updated the visuals for this level as well as changing the game's logic. We have one last playtest scheduled for Friday, May 3rd, which will be our final game build that we will submit at the end of the semester. Feel free to play the current build of Helios on our project website!