Issue 15: Final Development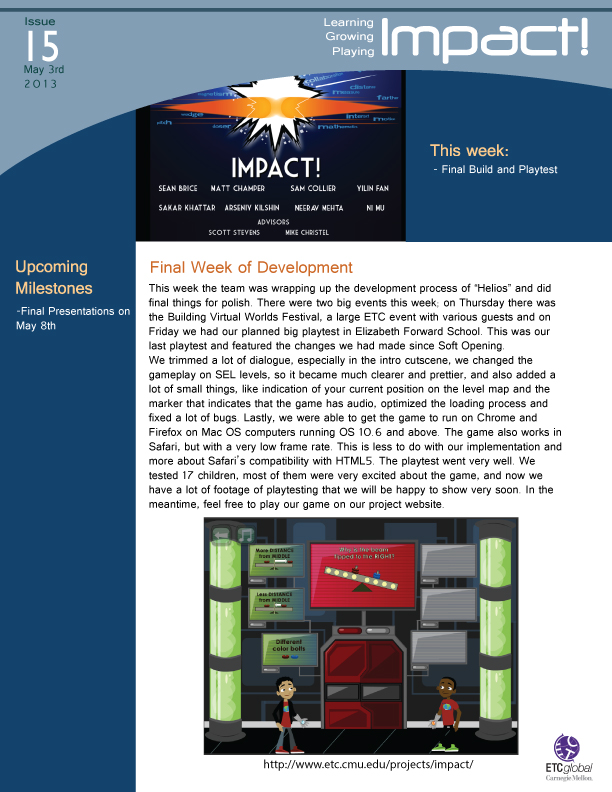 This week the team was wrapping up the development process of "Helios" and did final things for polish.
There were two big events this week; on Thursday there was the Building Virtual Worlds Festival, a large ETC event with various guests and on Friday we had our planned big playtest in Elizabeth Forward School. This was our last playtest and featured the changes we had made since Soft Opening.
We trimmed a lot of dialogue, especially in the intro cutscene, we changed the gameplay on SEL levels, so it became much clearer and prettier, and also added a lot of small things, like indication of your current position on the level map and the marker that indicates that the game has audio, optimized the loading process and fixed a lot of bugs. Lastly, we were able to get the game to run on Chrome and Firefox on Mac OS computers running OS 10.6 and above. The game also works in Safari, but with a very low frame rate. This is less to do with our implementation and more about Safari's compatibility with HTML5. The playtest went very well. We tested 17 children, most of them were very excited about the game, and now we have a lot of footage of playtesting that we will be happy to show very soon. In the meantime, feel free to play our game on our project website.