Welcome to our project website. This is a collaborative project between Carnegie Mellon University's Entertainment Technology Center and Salford University of Manchester.
ABOUT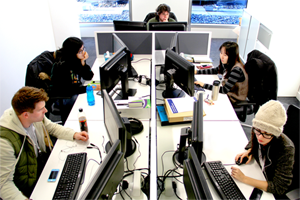 Madhouse is an ETC semester project in cooperation with the University of Salford and based in MediaCityUK, Salford, UK. The first ETC project to be based in Manchester, Madhouse is working to merge interactivity and live performance using Salford's high-tech media lounge, the Egg. Equipped with a dozen interactive devices and one of the highest definition video screens available, the Egg presents unique opportunities to create location-based interactive entertainment.
To accomplish this goal, Madhouse is adapting Sir Peter Maxwell Davies's 1969 monodrama 8 Songs for a Mad King, a tragic opera based on the infamous madness of King George III and his efforts to teach caged bullfinches to sing specific tunes. The Madhouse team plans to combine the piece with the latest multimedia technologies available to create an innovative performance experience.
Project Half Sheet
click picture to enlarge