This week we focused on
-1) Designing Chapter 3 and client feedback
-2) Preparations for Playtest Day
As we are slowly wrapping up completion of Chapter 2, we started the pre-production phase on Chapter 3 in order to stay on track and have all chapter implementations completed for Softs. That being said we are still adjusting the final changes to Chapter 2 based on the feedback we're receiving from Jessica. However we are also waiting on more feedback from faculty and friends the following week as we send out our play test videos.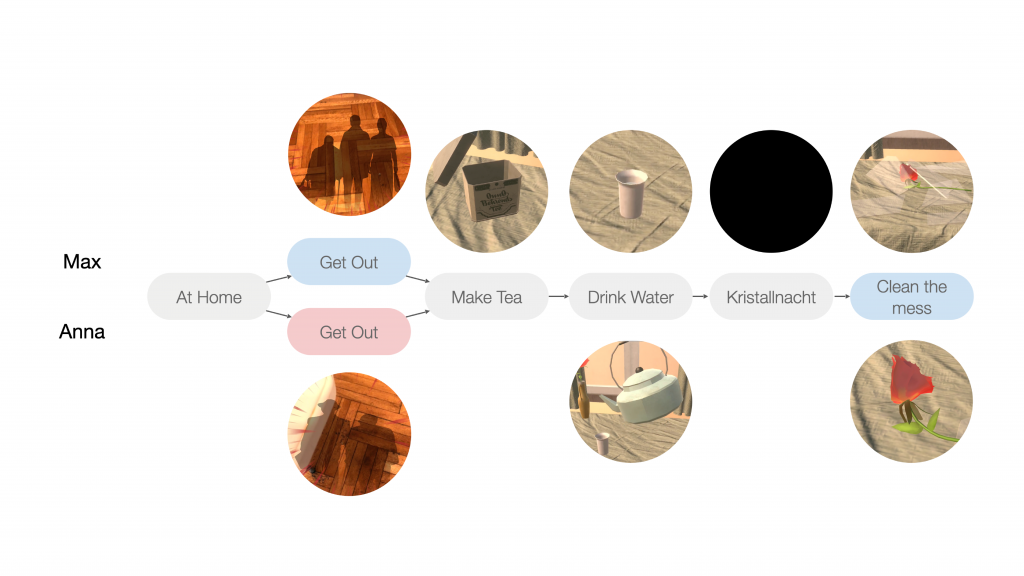 We were able to implement Minz's graphics for the maze mechanic and players now have a visual when they are walking through the crowds in AR. When Players make their way back to the House Marker they must pay attention to the screen and make sure they don't bump into crowds of people.
We also implemented new assets from Chelsea to show a change in the environment when the players revisit the House marker in Chapter 2. Previously we decided that we wanted the players to visit markers they previously were and only show assets that they would have interactions with in order to draw their attention to specific objects and direct them on how the scene will play out. This will make role playing easier for the player.
We met with our client, Jessica Hammer again this week and gave her the rundown of our initial design for Chapter 3 and showed her our progress for Chapter 2 as well as the transition between Chapters. Using that we will begin building out the skeleton for Chapter 3 next week and update Chapter 2 with her suggestions.
Derek and I also split our time on get our materials and website ready for Play Test Day. Derek focused on getting the play test survey finished and I worked on editing videos of our whole experience thus far. As we had some difficulty running the build remotely ourselves, we also estimated that not many people would also have two tablets on hand to test the experience accurately. Therefore we instead decided to forgo having play testers download the build and showcase the experience on video so people could see it from start to finish. This way we could obtain as much feedback as possible since our goal is to have everything as completed as possible to get more feedback during Softs.
Minz also provided me some graphics to help illustrate the steps more thoroughly.
Here are a few shots from one of the videos we made.
This week our team…
Derek – Designing Chapter 3 and Playtest Day preparations
Sally – Editing Videos and Playtest Day preparations
Ryan – Completing programming for Chapter 2
Minz – Creating UI and Illustrations for Chapter 2
Chelsea – Finishing 3D assets for Chapter 2
We had a productive week on development as we're getting ever so closer to completing the entire experience and moving forward to the polishing phase.
See you next week!