This week we focused on
-1) Soft Opening
-2) Finishing up the build and documentation
-3) Casting Actors to record dialogue
This week our team…
Derek – Preparing the Game Design Document and getting in touch with the drama school
Sally – Editing the trailer and archiving all our documents
Ryan – Programming the rest of the Chapter 3 and the transition
Minz – Updating the graphics and getting recordings from our cast
Chelsea – Assisting with the Game Design Document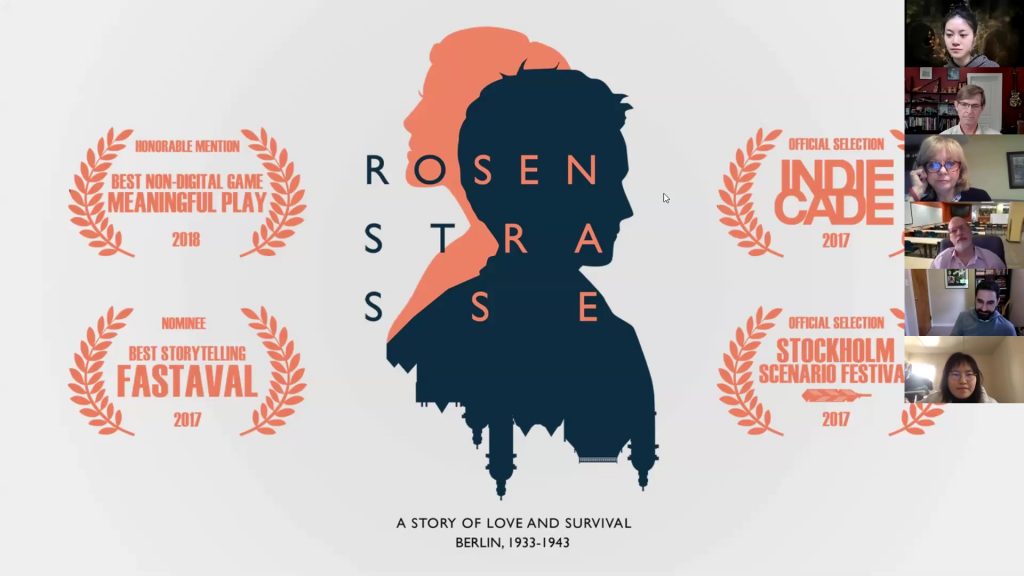 Soft Openings
To start off the week our team presented to faculty for Soft Openings in order to give them a feel on the current state of our project and gain valuable feedback as we are getting closer to completion.
We met with Shirley Saldamarco, Carl Rosendahl, John Dessler, and Moshe Mahler and gave them a summary of what we are trying to achieve with our project as well as an overview on what we accomplished so far. We got a lot of helpful feedback on what ways we can best present the story to give the maximum emotional impact that we want as well as suggestions on what we can do to make the overall experience better.
Softs Critique
-1) Develop the sound design more to fit the tone of the scene
-2) In the video presentation, focus more on conveying the story beats rather than the technical aspects and functionality of our game
-3) Add more user functionality if we can, to have players more engaged in the story flow
Client and Faculty Meetings
We also were able to meeting with Jessica Hammer, our faculty advisors Heather and Tom, and Brian from Snap.
On Tuesday, we met with Heather and Tom and they informed us on the feedback from Softs. We learned that we are in a good spot overall and if we are able to address as many as their suggestions as we can we can deliver a great product to our client, Jessica. The faculty understood what we were doing and mainly gave us feedback that was actionable, so we should focus on our next steps based on their critique and make sure we have good reasons whether we choose to address their suggestions or not.
On Friday, we met with Jessica and Erica. We had a short meeting, but we were able to discuss what faculty suggested to us and ask for her opinion on what she wants us to focus on. We were also able to show her our progress for Chapter 3, so we can get more critique. Overall Jessica wants us to make sure we have a full complete experience that she can continue to work on in the future.
After our meeting with Jess, we met with Brian from Snap and we discussed future plans and offered any technical help on his end. Previously we mentioned that we had full intent to present our work at the ACM IMX 2020 conference in Barcelona this upcoming June, however now the conference is going virtually. We are in the process of preparing our material to present online along with the other teams and share our work.
Wrapping Up
This week everyone focused on getting all of our documentation and builds archived so that our client, Jessica could hand it off to another team if she chooses.
On the production side, I was busy working on editing our trailer for our project website. Head on over to our home page to check it out! Derek and Chelsea worked on getting as much of the game design documentation completed based on our current build to submit to archives and will continue to be working on it until we wrap up production entirely.
Minz was creating graphics such as credits and improving the current ones in our build. Along with Derek, they were also reaching out to the drama department and getting actors to record dialogue for our game. We were able to get our budget approved by the department and can now set up recording sessions with the actors to get the sounds we need.
Ryan was busy getting the final story beats programmed into the game and should be scheduled to be finished the following week, so we can focus on getting our audio polished in the build.
We also just got our schedule for Final Presentations in the next few weeks, and will be preparing for that as well.
All in all we had a pretty busy week and we're on our way to wrapping up everything. See you next week!