WEEK 1: Composition box
The subject of racism is a complex one to handle and our first week started with the question of how do we tackle it.
In addition to the project's team members there is an additional class for undergrad students who participate and assist through out the semester.  Coming from different backgrounds they all shared their experiences with racism (whether if it was experiencing microaggressions or blunt out racism).
On the second class the clients were also present and told us more about what they were expecting from the final product. Ideally they would like it to be addressed for undergrad population (but also older) and be an experience that will include an opportunity for a discussion after.
With that in mind we started the brainstorming and made a composition box. It included our inspirations (for example: MTV Decoded, Pantone skin color chart ), list of our skils (2D, 3D, etc), different options for our final product (one long piece? A few short ones? Group experience vs. personal?), what do we want to achieve?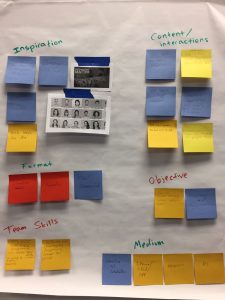 Our biggest challenge we have this moment is deciding how do we want to approach the subject. Do we choose a personal story related to a specific race? Several races? Non at all and take it to a more abstract direction? And how do we incorporate the group discussion in the final product (if at all)?