Welcome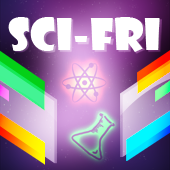 SCI-FRI (Science Friction) is a project working towards inspiring young minds to pursue science and engineering as a career. Initiated by DARPA, this is a multi-year project working in conjunction with many different institutions and organizations, such as the Sesame Workshop and Carnegie Mellon's Human Computer Interaction Institute. The end-product will be a series of multi-platform games for Pre-K-3rd graders that inspires interest and teaches basic concepts in the field of science.
This semester we are working on new games that cover physics topics regarding stability and center of mass, while also helping encourage scientific reasoning skills like constructing explanations and engaging in arguments based on evidence. We are also working towards tackling socio-emotional tasks, such as encouraging kids to collaborate with each other in the game. Our target demographic for these games is ages 5-7 and our target platform will be primarily PC, with Android tablets as a supplementary option. In addition to new content, we are also working on improving the measurement of RumbleBlocks, the game that the "Illuminate" project produced last semester.
Visit the ENGAGE Portal Here
Recently, we were informed that RumbleBlocks from the Illuminate Project was nominated as a finalist for the 2012 DATA Awards!
3 Minute Video