Project: Take Shape
Week Thirteen Newsletter
11-23-2012
Week Thirteen: Giving Thanks
With a shortened week due to the Thanksgiving holiday we knew it was time for a strong push to both ready our team for the approaching soft opening, and to allow for a relaxing break without the stress of an impending deadline. Paint, assembly and new versions of the interface filled the docket for our remaining four days before break. With all of our panels and paint materials gathered we set up shop early Saturday morning to begin painting and polishing our machine. All of the pieces needed to be sanded; some to be varnished directly; and others that would need paint prior to their varnish stage. Dan set up his sewing station to produce the needed sleeves for bend and squeeze. These sleeves will allow for us to hide the mechanics on the inside of the modifier, provide a match to the overall color scheme and, with duplicates of each piece, give the MAKESHOP staff extra in case of tearing, becoming dirty or accidentally taken away.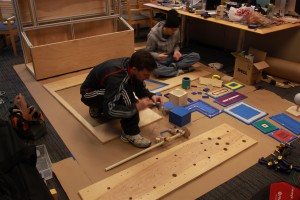 In the following four days we would find ourselves pretty close to where we had hoped to be by this point. We successfully painted, varnished and mounted all of the machine's paneling pieces giving us a closer look at what the finished product would resemble. With our play test we knew this would be extremely important for the museum staff to visualize what we had been planning all along, and it was just that. Small concerns about the overall size arose but were quickly downplayed with clear reasoning for ergonomics, height and the amount of modifiers we were able to include overall.
On Tuesday, following a twenty-one hour work day, we drove our machine back to the MAKESHOP for our final play test prior to soft opening. With an outstanding showing last time we were eager to have a new crop of children experience our highly updated version during this play test. In the end we had close to thirty more children interact with the Shape Shape machine bringing our total to just over eighty children throughout three play tests. Although the machine held up well we failed once again in creating an intuitive shape selector which led to its demise and eventual failure leaving us with more broken hardware. So again, we returned to the ETC having to rethink our plans for effectively giving kids the control of which shape they will manipulate.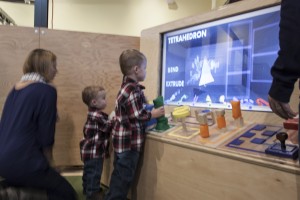 Despite the fact that our shape selector broke we did observe some crucial interactions that helped us form a new perspective on how to design the mechanism. Throughout the semester we had been trying to design something that would work in one specific fashion to utilize the type of sensors we had on hand; this was all focused toward creating a non-traditional button. After many iterations we realized that kids and adults alike were missing our cues to push and would repeatedly spin our three shapes. This led us to experiment with force sensors. A basic analog system that gives a numerical readout from 1 to 1000 based on the amount of force applied to the sensor's surface. Coupling that with the basic fact that regardless of how an individual interacts with the shapes whether it be spinning, pushing or pulling they will always affect the amount of force applied either in a positive or negative direction. We quickly fabricated a brand new support structure and dowel rod system that we mounted our new force sensors to and affixed to the dash panel. After observing the readouts from the sensors and running tests to record average change in pressure the program was set to a specific threshold for each shape. Testing with classmates in the building we were confident this new functionality would work properly but we would have to wait until our last play test to find out if it was a workable solution to our ongoing issue of shape selection.
After Thanksgiving we will have our soft opening, a showcase at the BVW aftershow party, one more play test and then present the finished machine to the faculty and staff during our final presentation December 4th. Until next time!