Why VR?
After half, the impact of COVID-19 has put CMU to remote instruction.
The CMU campus was temporarily closed down, including the location for which our installation was built.
To adapt to the remote working, we pivot to build a VR simulation of the location to help us move forward to the final implementation and iterations.
While we continued working on the promised delivery, we created VR simulation to visualize, communicate, and test the product.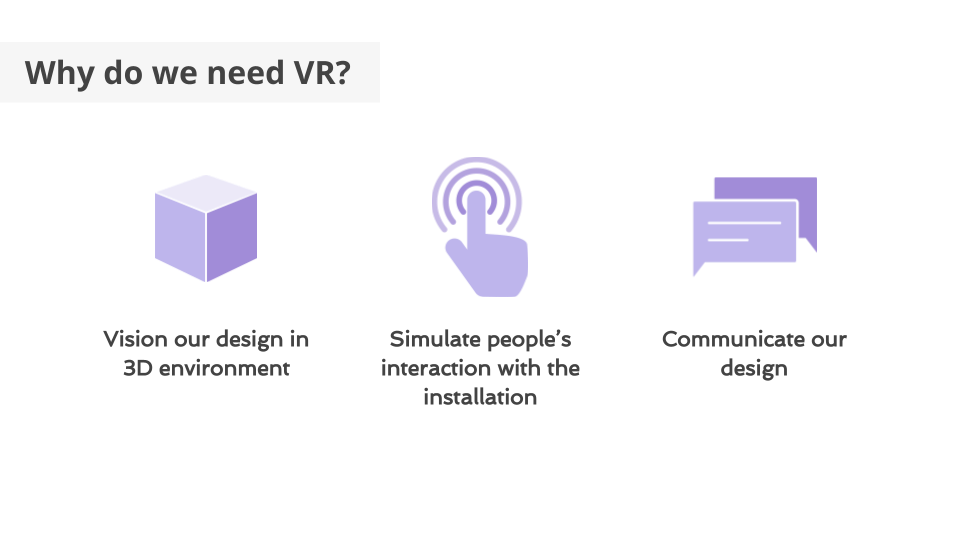 Vision our design in 3D environment.
Although we are designing for a 2D glass interface, our project will be displayed in a 3D environment. It meant that we should take the spatial perspective into consideration for our product design. The VR helped us to explore better how different templates look like from different viewpoints.
Simulate people's interaction with the installation.
With the headset on, not only can people have a sense of the actual size of the installation, but also experience tangible interaction with it. For example, they could reach out with their hands to touch the sensor or look up to read the question in the big bubble. It's been helping us to understand the users' interactive behavior.
Communicate our design.
We use VR to display our design in the simulated scenario, which has been much easier for our play-testers and clients to picture it as a location-based product. It certainly has helped communicate the design, and helped us collect more feedback to push our design forward.
VR Limitations:
We also knew that there were some limitations in VR, like limited view range, and the lighting differences from real environment. Despite the limitations, VR served well as the tool to visualize our design and test the function and design of each template.
Why template?
We worked with the client to come up with three templates; each serves different purposes and demonstrates unique functionalities and mechanics. As we were building a completely new system, the templates were necessary and helpful for both the users and developers. It offers an easy start on utilizing the tool, yet not limiting its possible extensions.
---
Conversation Template
---
---
Showcase Template
---
---
Polling Template
---