Issue #5: Sesame Workshop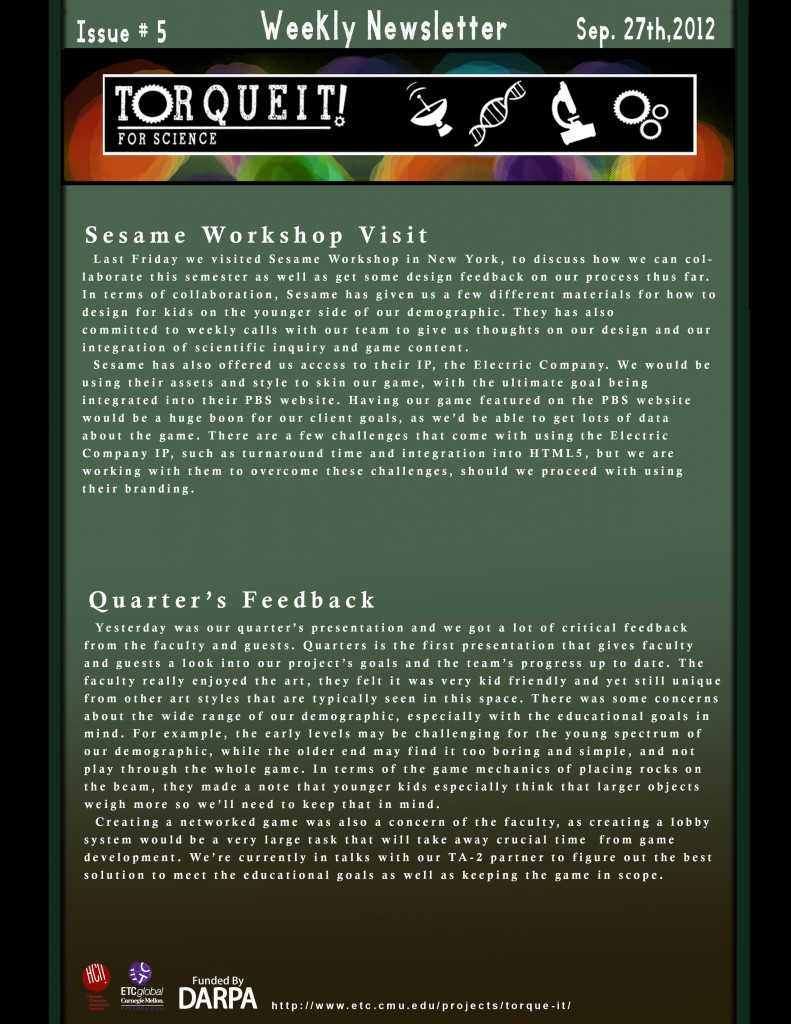 Sesame Workshop Visit
This past Friday we visited Sesame Workshop in New York, to discuss how we can collaborate this semester as well as get some design feedback on our process thus far. In terms of collaboration, Sesame has given us a few different materials for how to design for kids on the younger side of our demographic This is a great asset for us to have, especially from Sesame Workshop. Sesame has also committed to weekly calls with our team to give us thoughts on our design and our integration of scientific inquiry and game content.
Sesame has also offered us access to their IP, the Electric Company. We would be using their assets and style to skin our game, with the ultimate goal being integrated into their PBS website. Having our game featured on the PBS website would be a huge boon for our client goals, as we'd be able to get lots of data about the game. There are a few challenges that come with using the Electric Company IP, such as turnaround time and integration into HTML5, but we are working with them to overcome these challenges, should we proceed with using their branding.
Quarters Feedback
Yesterday was our quarter's presentation and we got a lot of critical feedback from the faculty and guests. Quarters is the first presentation that gives faculty and guests a look into our project's goals and the team's progress up to date. The faculty really enjoyed the art, they felt it was very kid friendly and yet still unique from other art styles that are typically seen in this space. They also felt that our goals with the game are pretty clear and simple (in terms of the balancing mechanic). There was some concerns about the wide range of our demographic, especially with the educational goals in mind. For example, the early levels may be challenging for the young spectrum of our demographic, while the older end may find it too boring and simple, and not play through the whole game. In terms of the game mechanics of placing rocks on the beam, they made a note that younger kids especially think that larger objects weigh more so we'll need to keep that in mind.
Creating a networked game was also a concern of the faculty, as creating a lobby system would be a very large task that will take away crucial time  from game development. We're currently in talks with our TA-2 partner to figure out the best solution to meet the educational goals as well as keeping the game in scope.