Issue #6: Development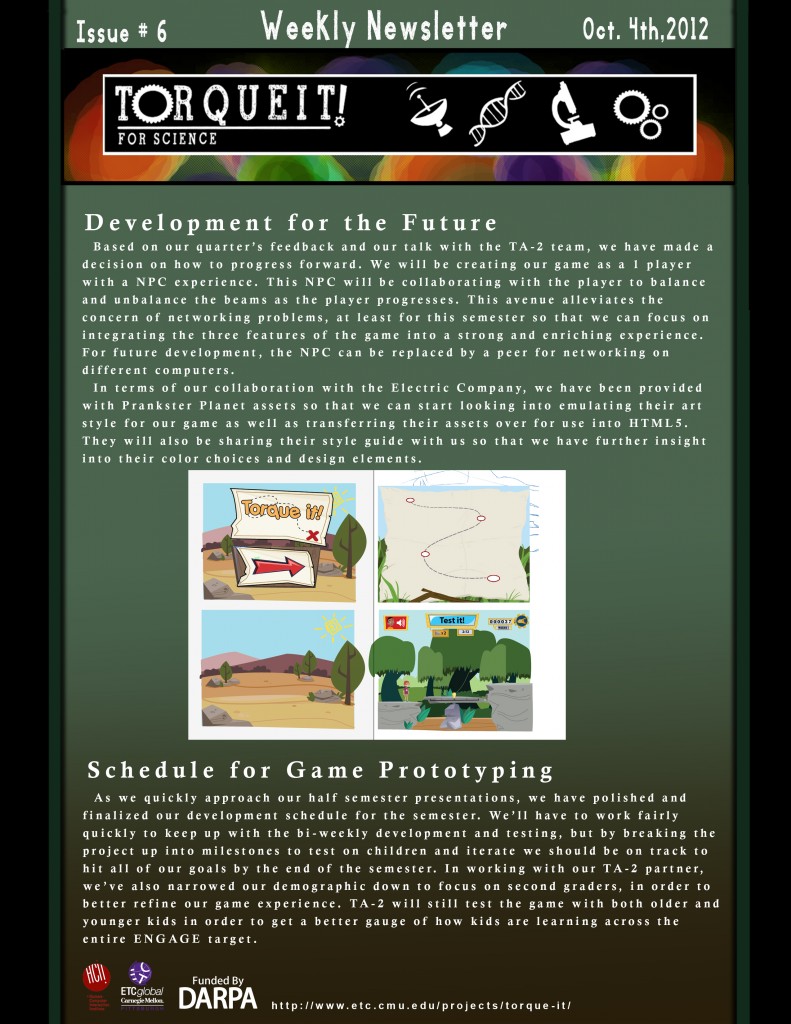 Development for the Future
Based on our quarter's feedback and our talk with the TA-2 team, we have made a decision on how to progress forward. We will be creating our game as a 1 player with a NPC experience. This NPC will be collaborating with the player to balance/unbalance the beams as the player progresses. This avenue alleviates the concern of networking problems, at least for this semester so that we can focus on integrating the three features of the game into a strong and enriching experience. For future development, the NPC can be replaced by a peer for networking on different computers.
In terms of our collaboration with the Electric Company, we have been provided with Prankster Planet assets so that we can start looking into emulating their art style for our game as well as transferring their assets over for use into HTML5. They will also be sharing their style guide with us so that we have further insight into their color choices and design elements.
Schedule for Game Prototyping
As we quickly approach our half semester presentations, we have polished and finalized our development schedule for the semester. We'll have to work fairly quickly to keep up with the bi-weekly development and testing, but by breaking the project up into milestones to test on children and iterate we should be on track to hit all of our goals by the end of the semester. In working with our TA-2 partner, we've also narrowed our demographic down to focus on second graders, in order to better refine our game experience. TA-2 will still test the game with both older and younger kids in order to get a better gauge of how kids are learning across the entire ENGAGE target.