Issue #8: Sesame Visits ETC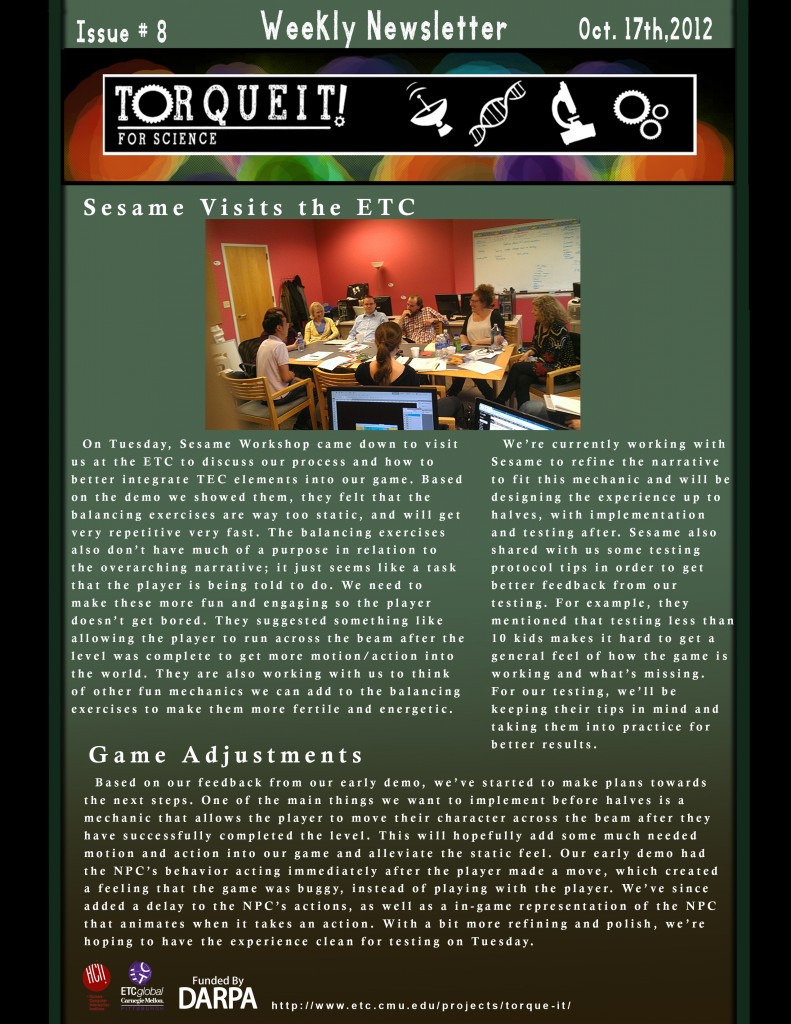 Sesame Workshop Visits the ETC

On Tuesday, Sesame Workshop came down to visit us at the ETC to discuss our process and how to better integrate TEC elements into our game. Based on the demo we showed them, they felt that the balancing exercises are way too static, and will get very repetitive very fast. The balancing exercises also don't have much of a purpose in relation to the overarching narrative; it just seems like a task that the player is being told to do. We need to make these more fun and engaging so the player doesn't get bored. They suggested something like allowing the player to run across the beam after the level was complete to get more motion/action into the world. They are also working with us to think of other fun mechanics we can add to the balancing/unbalancing exercises to make them more fertile and energetic.
We're currently working with Sesame to refine the narrative to fit this new mechanic and will be designing the experience up to halves, with implementation and testing after. Sesame also shared with us some testing protocol tips in order to get better feedback from our testing. For example, they mentioned that testing less than 10 kids makes it hard to get a general feel of how the game is working and what's missing. For our testing, we'll be keeping their tips in mind and taking them into practice for better results.
Game Adjustments
Based on our feedback from our early demo, we've started to make plans towards the next steps. One of the main things we want to implement before halves is a mechanic that allows the player to move their character across the beam after they have successfully completed the level. This will hopefully add some much needed motion and action into our game and alleviate the static feel. Our early demo had the NPC's behavior acting immediately after the player made a move, which created a feeling that the game was buggy, instead of playing with the player. We've since added a delay to the NPC's actions, as well as a in-game representation of the NPC that animates when it takes an action. With a bit more refining and polish, we're hoping to have the experience clean for testing on Tuesday.