Issue #13: Softs & Sesame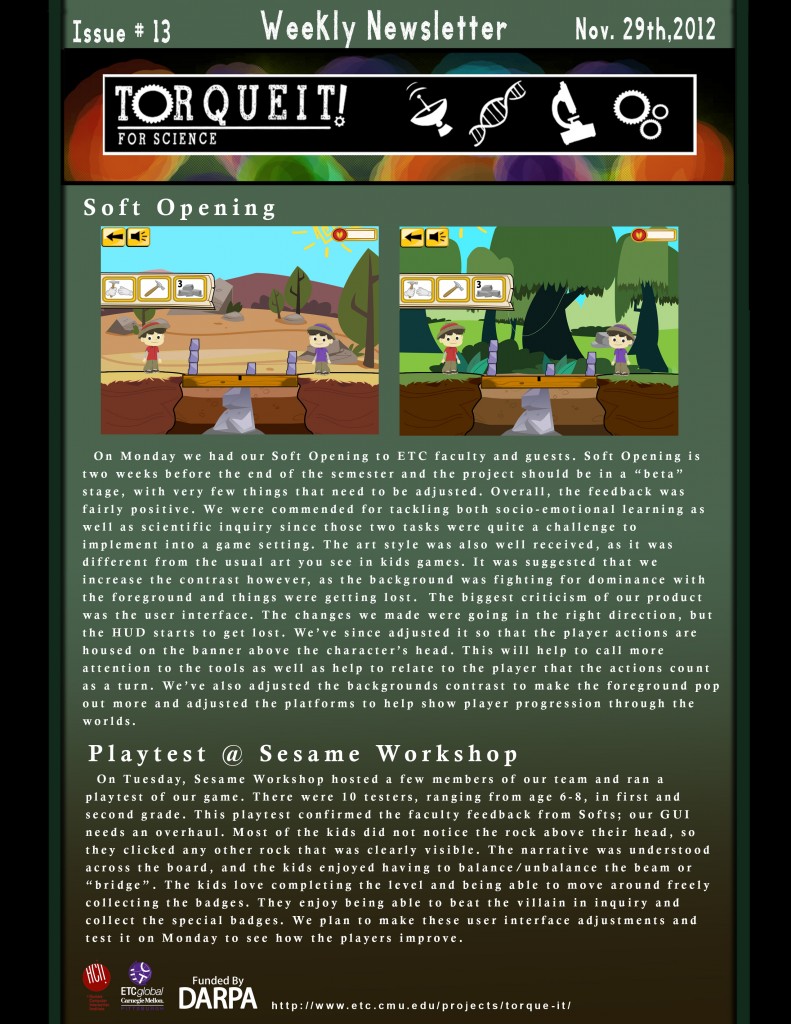 Soft Opening
On Monday we had our Soft Opening to ETC faculty and guests. Soft Opening is two weeks before the end of the semester and the project should be in a "beta" stage, with very few things that need to be adjusted. Overall, the feedback was fairly positive. We were commended for tackling both socio-emotional learning as well as scientific inquiry since those two tasks were quite a challenge to implement into a game setting. The art style was also well received, as it was different from the usual art you see in kids games. It was suggested that we increase the contrast however, as the background was fighting for dominance with the foreground and things were getting lost. The biggest criticism of our product was the user interface. The changes we made were going in the right direction, but the HUD starts to get lost. We've since adjusted it so that the player actions are housed on the banner above the character's head. This will help to call more attention to the tools as well as help to relate to the player that the actions count as a turn. We've also adjusted the backgrounds contrast to make the foreground pop out more and adjusted the platforms to help show player progression through the worlds.

Playtesting @ Sesame Workshop
On Tuesday, Sesame Workshop hosted a few members of our team and ran a playtest of our game. There were 10 testers, ranging from age 6-8, in first and second grade. This playtest confirmed the faculty feedback from Softs; our GUI needs an overhaul. Most of the kids did not notice the rock above their head, so they clicked any other rock that was clearly visible. The narrative was understood across the board, and the kids enjoyed having to balance/unbalance the beam or "bridge". The kids love completing the level and being able to move around freely collecting the badges. They enjoy being able to beat the villain in inquiry and collect the special badges. We plan to make these user interface adjustments and test it on Monday to see how the players improve.