Final Issue: Playtesting & Presentation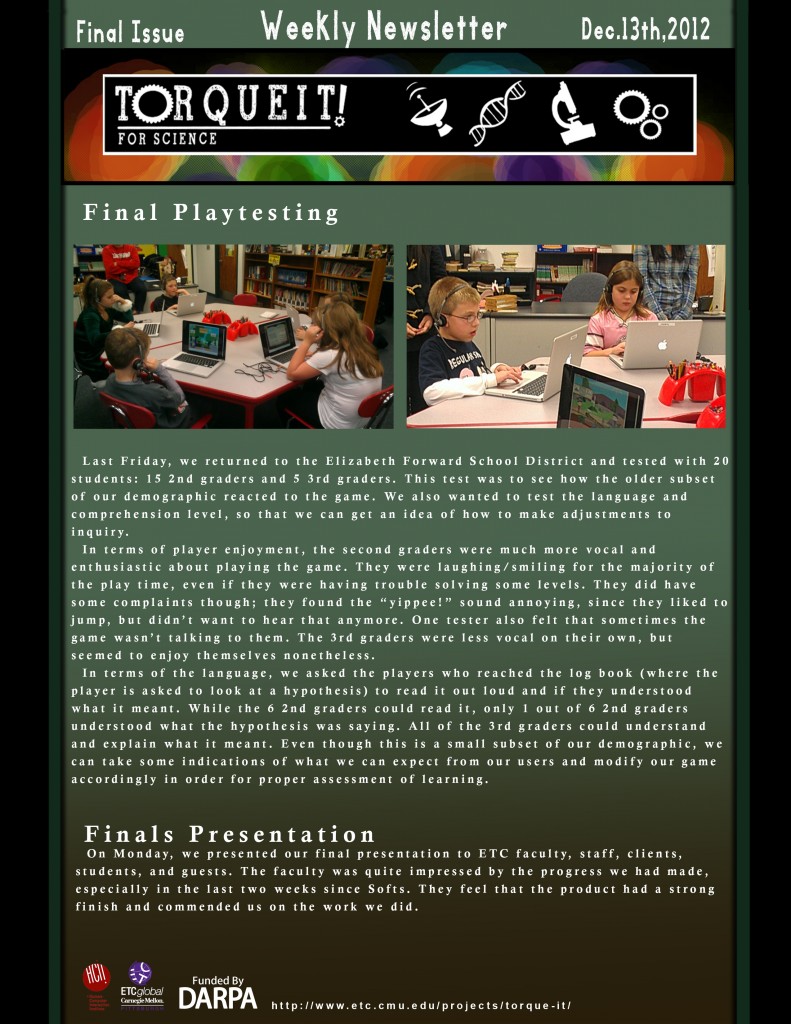 Final Playtesting
  Last Friday, we returned to the Elizabeth Forward School District and tested with 20 students: 15 2nd graders and 5 3rd graders. This test was to see how the older subset of our demographic reacted to the game. We also wanted to test the language and comprehension level, so that we can get an idea of how to make adjustments to inquiry.
  In terms of player enjoyment, the second graders were much more vocal and enthusiastic about playing the game. They were laughing/smiling for the majority of the play time, even if they were having trouble solving some levels. They did have some complaints though; they found the "yippee!" sound annoying, since they liked to jump, but didn't want to hear that anymore. One tester also felt that sometimes the game wasn't talking to them. The 3rd graders were less vocal on their own, but seemed to enjoy themselves nonetheless.
  In terms of the language, we asked the players who reached the log book (where the player is asked to look at a hypothesis) to read it out loud and if they understood what it meant. While the 6 2nd graders could read it, only 1 out of 6 2nd graders
understood what the hypothesis was saying. All of the 3rd graders could understand and explain what it meant. Even though this is a small subset of our demographic, we can take some indications of what we can expect from our users and modify our game accordingly in order for proper assessment of learning.
Final Presentations
On Monday, we presented our final presentation to ETC faculty, staff, clients, students, and guests. The faculty was quite impressed by the progress we had made, especially in the last two weeks since Softs. They feel that the product had a strong finish and commended us on the work we did.