Last Thursday this semester's ETC Silicon Valley students sat down and watched Randy Pausch's talk on time management given on November 27, 2007, about a month after his famous Last Lecture. These talks were given a year after the cancer in his pancreas was discovered, and nine years after he founded the ETC with Don Marinelli.
In his Time Management talk Randy Pausch emphasizes the importance of making the most of your time, so that our lives can become more manageable and we can accomplish more with the time that we have. However, rather than focus on the pure productivity side of time management, he gives the talk with the tone of giving a life lesson so that one may "live a happier, more healthy life". He says that a "time famine" can only be cured by making systematic, long term changes – such as changing one's habits and making decisions to delegate or simply not do something.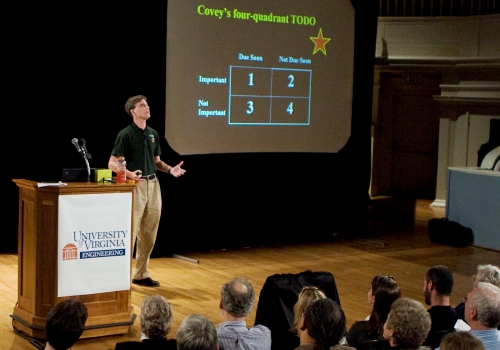 He also speaks about organizing one's tasks in a way to do the most important tasks first, how like in business 80% of the sales come from 20% of the clients, a vast majority of value from our lives comes from a small portion of what we do. In that sense, it makes more sense to focus on those tasks and make the decision to push other tasks "off the boat".
For accomplishing large, "ugly" tasks, he compares them to eating frogs: "If you have to eat a frog, don't spend a lot of time looking at it. If you have to eat three of them, don't start with the small one." He also mentions how it's important to break large tasks into smaller portions to make it easier to manage and achieve.
If you'd like to listen to his Time Management talk or Last Lecture, it is available online on his web page at Carnegie Mellon University. If you'd like to know more about his fight with pancreatic cancer, he also had a blog here (oldest news on the bottom, newest on top).