Curriculum
How do leaders build, encourage, and manage diverse teams, empowering them to create the highest quality and most innovative products?
The ETC Executive Education curriculum is based on the Six Lessons of Creative Chaos.  It shares the best practices, tailored to a workplace application of the lessons. The curriculum provides insight to better manage creative teams, and guides you in deciding how to apply these lessons to your workplace.
Creative Chaos
Creative chaos is the term we use to encapsulate the creative production process and its challenges. Innovation requires the risk of exploring new ideas and the inherently uncertain nature of results. Rapid prototyping and iterative design provide insight, provide teams with important discoveries, and lead toward good design that meets the project's goals. This process is intrinsically chaotic; hence: creative chaos.
The creative process is dynamic and often stressful. Creative work operates within the context of constraints. Constraints are primarily intrinsic to the reality of the design and development process. Teams have to deal with limited resources, the goals of the clients, and needs of the users demographics. Constraints also come in the form of time or budget limitations. They provide a context within which project teams can work. With project teams rapidly iterating on ideas and design as they develop prototypes, good communication with each other and with clients becomes core to developing high quality, innovative products.
The ETC has over twenty years of teaching, guiding, and observing creative chaos in action, working with hundreds of student teams. Creative Chaos is informed by this direct experience. It is also informed by a collaboration with Dr. Laurie Weingart, Carnegie Bosch Professor of Organizational Behavior and Theory at Carnegie Mellon's Tepper School of Business. Since 2008, Dr. Weingart and her doctoral students have studied our faculty, our teams, and their creative output, adding to our understanding of the dynamics of creative teams. 
Creative Chaos, published in 2016, documents our approach to this work. It provides an overview of the ETC and the research that solidified our approach. The Executive Education program is based on the Six Lessons we've learned about the creative process, how best to support diverse teams, and help them make the most of Creative Chaos, including the conflict that is core to innovation.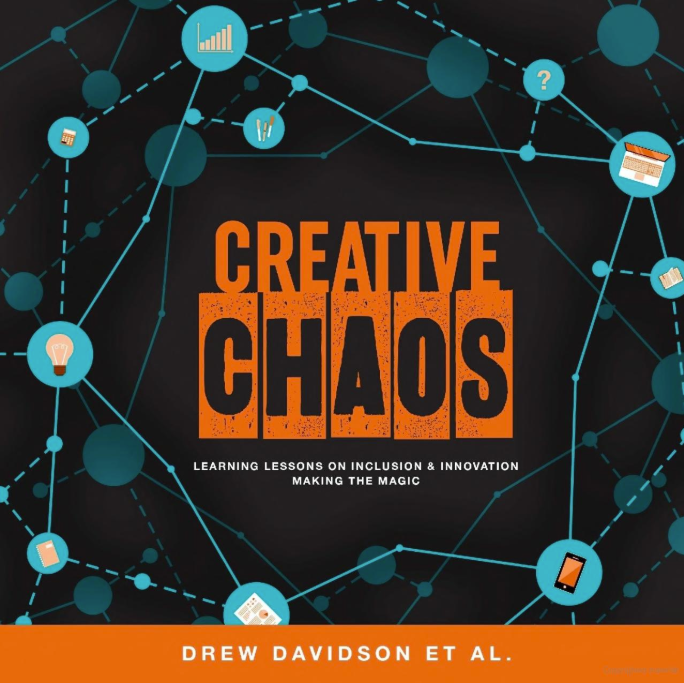 Creative Chaos
by: Drew Davidson
Available at ETC Press
Learn
Through talks with CMU faculty and industry experts, you will be introduced to ETC's Six Lessons from our research on Creative Chaos. Faculty and participants will build on this foundation through guided group discussions, exploring how these lessons relate to your workplace. Together, we'll then synthesize these lessons by considering how they can be applied directly in your environment, helping you to create a plan to implement it.
Collegiality
Explore how to build teams and systems that support collaboration.
Development
Discover how experience designers use rapid prototyping, playtesting, and iteration to refine their designs and quickly improve their products.
Context
Embrace how context and constraints leverage failure, doubt and curiosity for success.
Inclusion
Understand the importance of inclusion and diversity. Explore first steps you can take to build a culture that values it, and systems that create it.
Support
Learn to support your teams with effective feedback and discover tools to make criticism and conflict comfortable and welcome.
Challenge
Apply techniques game designers use to help teams constantly improve.
Work
You'll work on a team of your peers for the duration of the program to solve a creative design challenge. Through rapid prototyping, feedback and iteration, you'll develop a product to be shared and experienced by your peers, ETC faculty, and industry experts. Throughout the process your team will be applying ideas and techniques from the Six Lessons. The invaluable experience of creating a product will lead to an understanding of both the challenges your teams face daily and of how to apply the Six Lessons with your own creative teams.
Play
Play is a cornerstone of the ETC experience and Creative Chaos. We engage in play not just because it's fun (which it is!) but because it's fundamental to the way people acquire knowledge. Daily Improv classes are the basis for this important aspect of our program, helping you to learn and practice skills that support and embody each of the Six Lessons. You will gain insight into how to play well with others, express new ideas, and break through communication barriers. You will also have a new tool you can use in your workplace to support your creative teams.