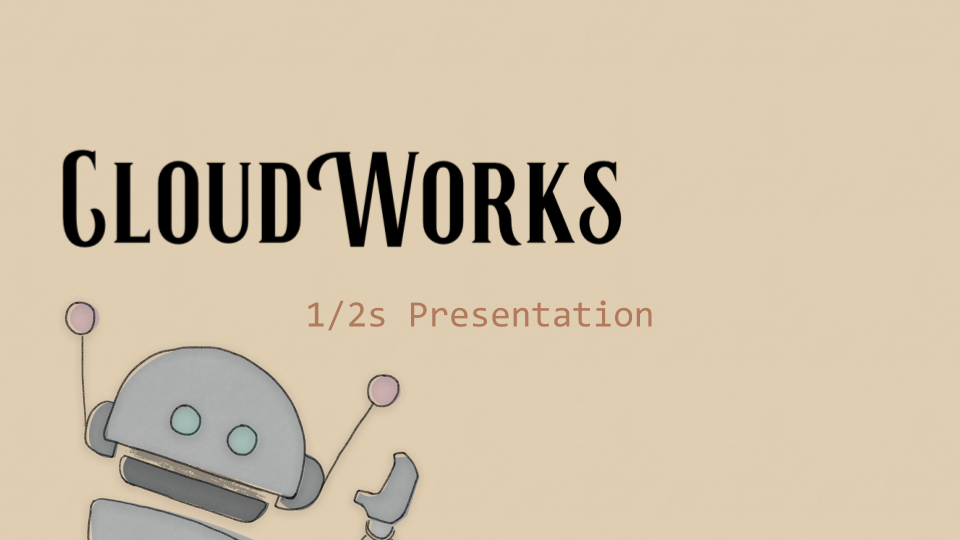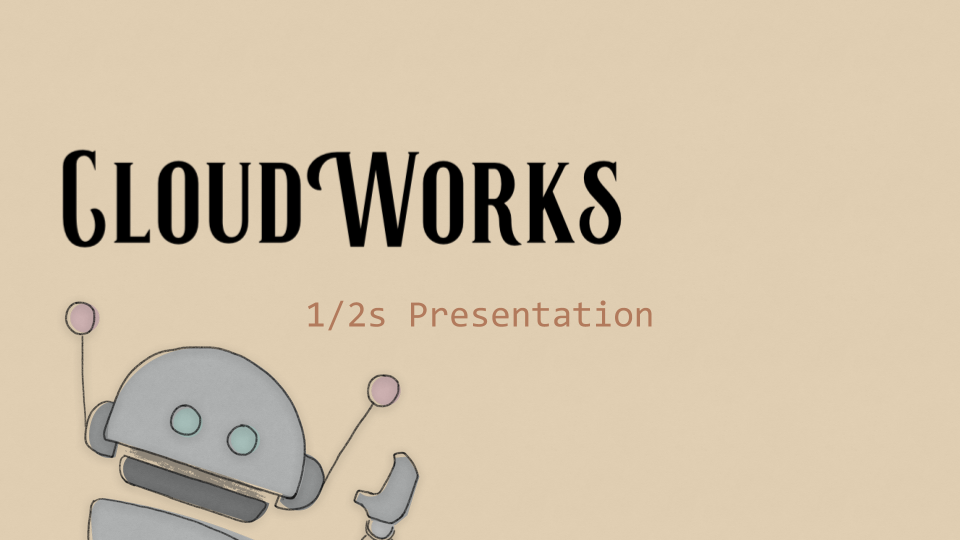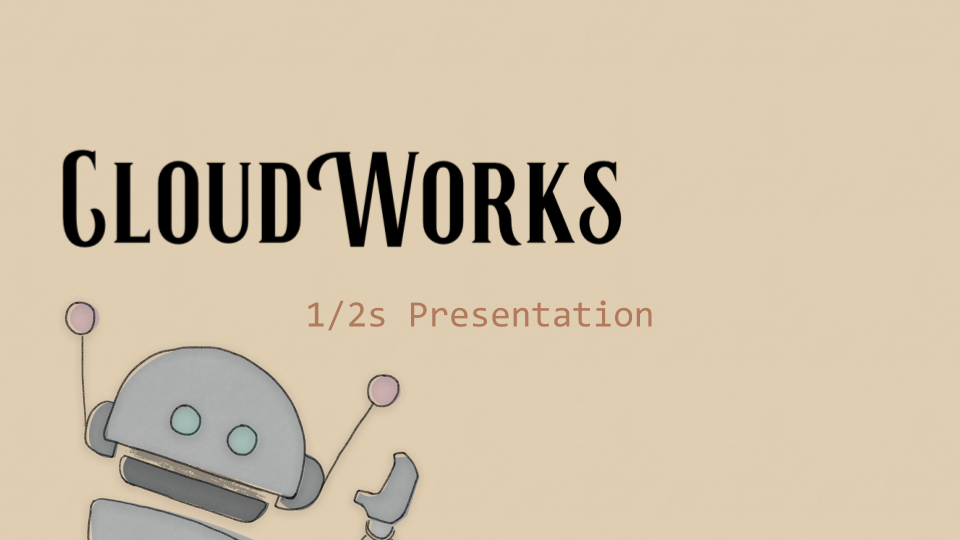 Of course the big moment from this week was our ½ presentation, checking in at the midway point of the semester. We'll get to that shortly, and talk about some of the questions that were raised from and general response to it, but first we should touch on the other in-roads we've made with the project.
Avatar Pipeline Testing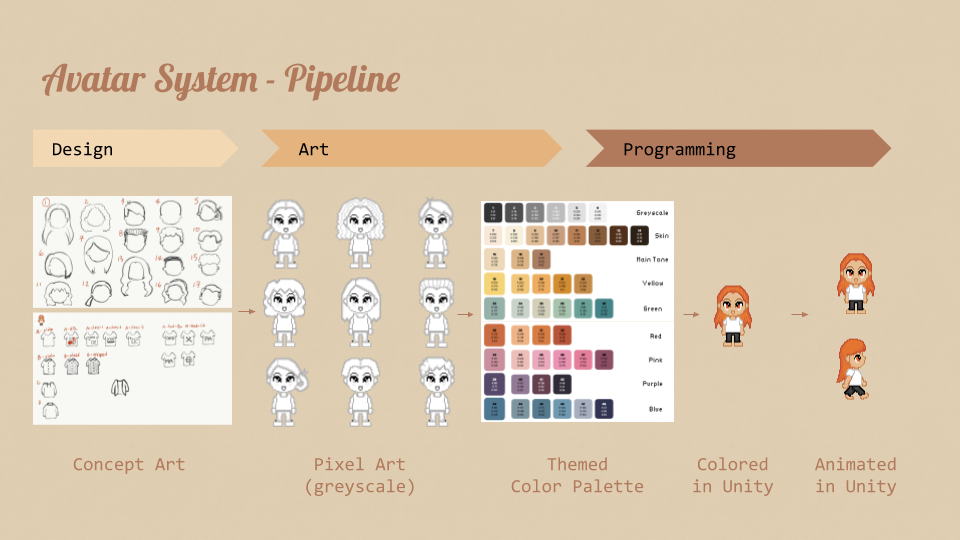 Coming out of the weekend we tested our avatar submission process with a BVW student, Lauren. Cara has been working on establishing a pipeline that should allow anyone to submit art assets to the avatar database, including hairs/hats, shirts and pants. Submitters will need to get a piece of concept art approved by the team, then create a series of sprite sheets for their asset for a portrait, idle, and walk animation, all using the template that Cara set up. Lauren submitted concept art the previous week and drew it over the weekend, letting us meet with her to discuss the process and any hiccups.
After talking with her we are going to move forward with what we have and attempt to test it with a non-BVW artist. Dave mentioned how much fun his daughter had in our playtest and how she would love to submit art for the avatars, so we did just that. We've asked Dave to have her submit concept art and are having him create one of these pieces over the weekend to see how it goes for him.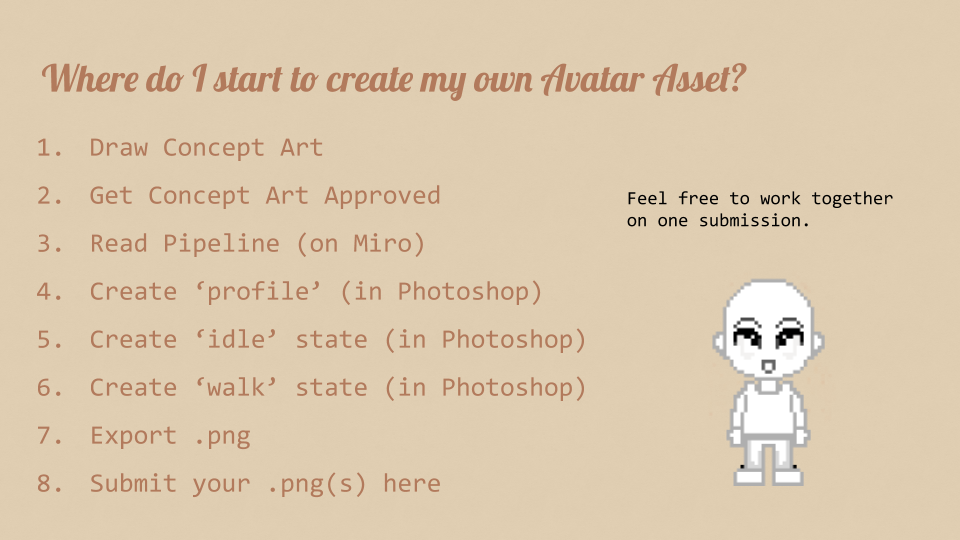 Schedule Approval
We met with our faculty committee early in this week to formally pitch our one day with three slots schedule to them for approval. Drew, Shirley, and Dave plan to talk this over together and with the other members of faculty after our presentation and during the next faculty meeting to ensure that this is okay, but as we wait now, things sounded promising.
Establishing Subcommittees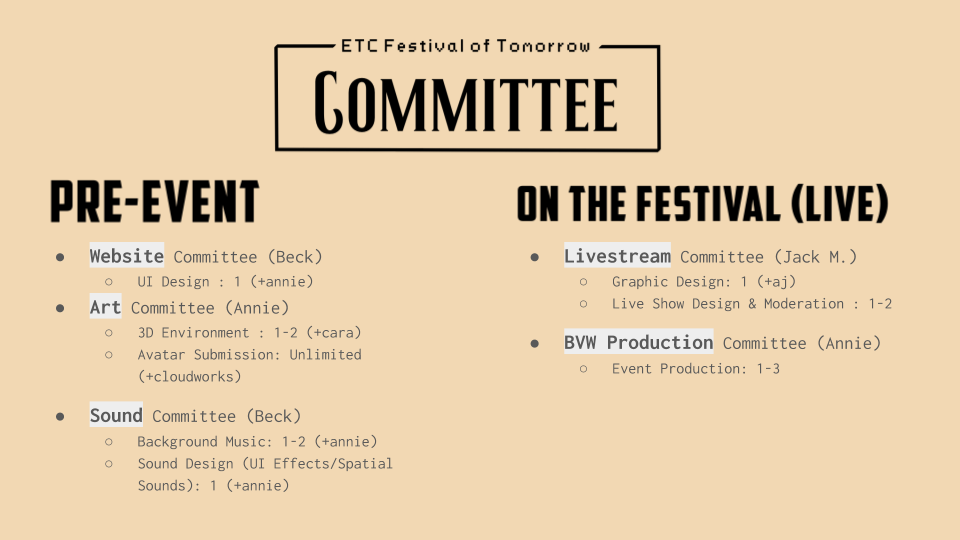 Festival has always been an event where everyone plays a role, and this year the preparation started early. And we're happy to welcome in more students to participate with explicit pipelines and responsibilities that joining committees actually allows each student to make small design decisions, making this festival even more creative and exciting.
This is a continuation of what we were planning with the avatar open submission pipeline, but in a more structured format. This started from a need to get sound assets for the world, as no one on the team feels comfortable enough creating polished bg musics and SFX, and has expanded to subcommittees for website UI, environment art, sound, production, and the livestream.
For the livestream subcommittee, we folded in AJ Johri, a BVW art TA to help us in generating assets for use in OBS with the broadcast, because of his experience with the platform.
Annie introduced the committees out to the BVW class this week and we are waiting for their responses to the form. This process will also help us to get buy in from the BVW students, who very likely feel less connected to the festival that at any other time.
Environment Navigation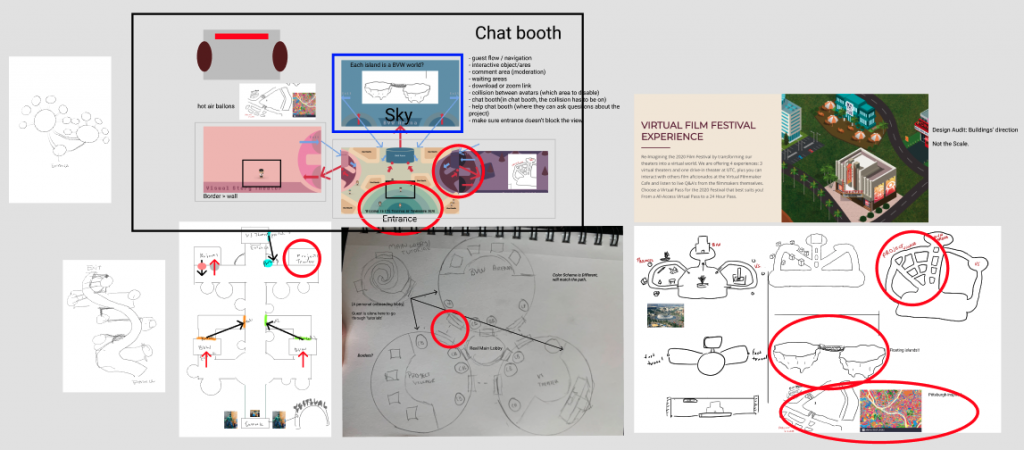 After some of the feedback from ½'s and a meeting with Ricardo afterwards about our environment, we decided that we needed to focus on this aspect of the world for a little bit and did a group brainstorm on how to lay out the entire world to guide our guests around.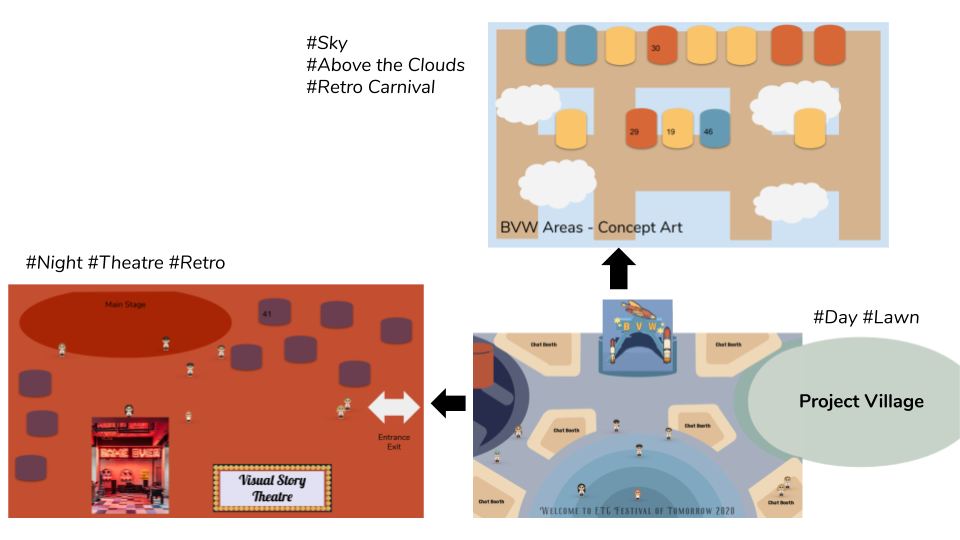 From this we are looking at laying out our environment in a three leaf clover pattern, with Visual in a room to the west, BVW in a room to the north, and projects in a room to the east. We were theming these areas as the Visual Story Theatre, the BVW Arena, and the Project Village. We really liked the ideas of having 'doormats' at the entry and exit ways to each area to keep this styling consistent, and giving guests the ability to move from any one room to any other.
Looking forward into next week we are focusing our brainstorming on navigation through the BVW portion of festival specifically. This is from both an environment perspective and an internal guest flow per room perspective
Invitations
We met with Caitlyn, who is typically in charge of emailing out guest invitations to talk about the process of collecting guests this year. We passed along a survey and email with information specifically calling out what festival will be like this year. That survey to collect guest names and timezones went out to all ETC students and faculty and we are closing it in about a week and a half before sending the invitations out.
Servers and Website
Late in the week we met with Steve and Bryan to explain our network diagram to him and talk about how we can best support the festival. He will be setting up 16 servers for us to use, 8 physical and 8 virtual to help us out.
He also helped to get our festival website set up so using wordpress so that we can make the most of our backup plan in the case of a system failure the day of. This would allow guests with invitation codes to access the links to the Zoom calls that would normally have been within our project. Now that this framework is established, we'll be able to move much more quickly on designing the layout of the website to get it in front of guests sooner.
Halves
So of course, ½'s were also this week. In the process of preparing, we came to see that the design pillars that we initially set for ourselves, camaraderie, engagement, and interaction had become too vague to be helpful, so we workshopped those keeping in mind what the most important aspects of our project have been and we realized that camaraderie was truly core to our festival experience. We also felt that guest-oriented and project-oriented better fit the project than the initial two. These pillars help to capture the focus on the guests experience and the ability to see and access student work through the festival.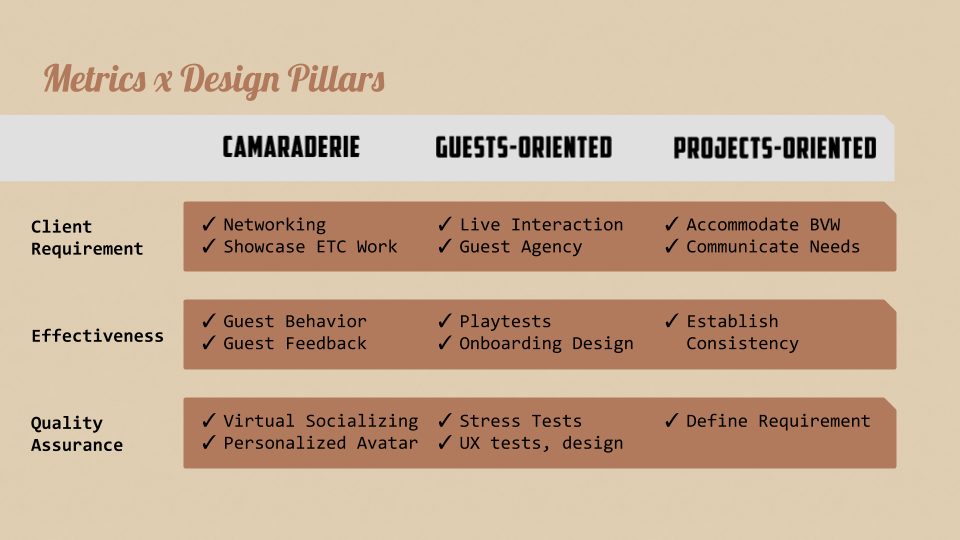 The response that we received from our presentation was generally positive form the faculty, which we were very happy about.
Questions from Faculty
We were asked the following questions afterwards which we can address some here:
Is there training or some type of onboarding for groups in the festival to learn best practices for getting people to come to their experience and how to handle guest in general. —–from Ricardo

We are establishing a framework for BVW teams to introduce guests to their project and welcome them from festival. There will also be a script in place for helping them to navigate back to the festival window. We will be rehearsing some of this as we get closer to the day of.

How are we playtesting for experience to ensure that 500 guests at a time is actually an enjoyable experience, not just a stable one? —–from Mo

We are looking at using stacked recordings of a player moving around the space and sending messages to see how these movements and text entries may flood the screen. We also plan on using Mechanical Turk later in the semester to get an actual stress test done with real people in place to help visualizing this as well.

Is the turnaround time on expected response to the RSVP too soon, especially considering there's no need to plan around fitting people into the physical space? ——from Carl

The turnaround time on RSVP (Nov. 2-Nov. 24) is pulled from the typical festival invitation time. While we have the advantage of not need to work around scheduling the physical ETC building, we do want to get a final headcount as soon as we can to ensure what we are working with and assign everyone to a session of the festival.

When you want to chat with someone is there identification so that you know who that person is? ——from Ralph

Each avatar will have a name above them that will be pulled from their invitations. Further, for alumni of te ETC, they can wear a shirt on their avatar, which will display their year of graduation. Hopefully as well, their avatar will somewhat resemble their real appearance, so hopefully these things working in conjunction will help to show who's who.