What we did this week
This week, our instructors Brenda and Jess have given us the task of figuring out "what makes improv show a show". We have divided four papers that Chance and Parker recommended us to read and have taken extensive notes on Audience Participatory Games on Twitch and the challenges and meaning associated with it, have twitch on our monitor for most of the time in the day, as well as a lot of improv watching, such as "Whose Line is it Anyway", "ASSSSCAT" as well as Drew Carey's Improvaganza.
We have figured out a somewhat fluid role setup this week – Shiva, Guimin and Namrakant will be primarily focusing on the tech side of things; Namrakant and Hyoeun and I will all be working on some art design. We are all going to pitch in design ideas, so I think it is fair to say that we are all designers.
Thanks to the team that has laid down a decent foundation before us, our directions seem to be a lot clearer compared to what they had to do, and we could use the prototype that was developed by them too. This week, our tech people has been working hard on resetting up everything from last year, and Hyo Eun has created some preliminary ideas for the logo for our project.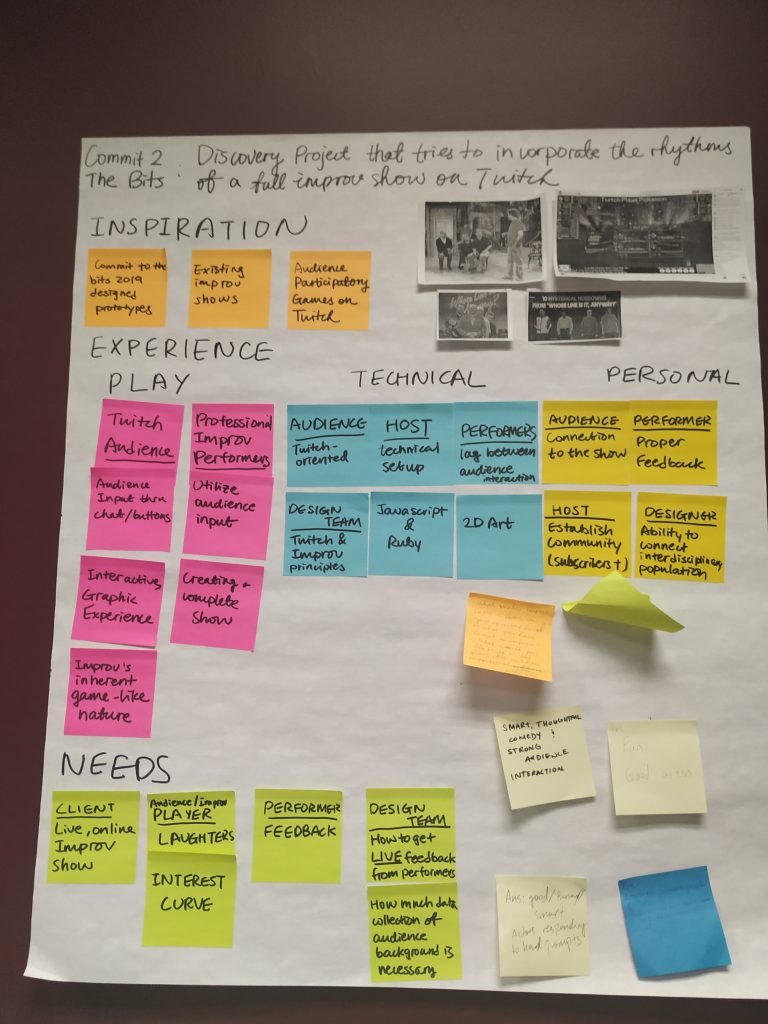 This Sunday, we also went to Arcade Comedy Theater for their Bonus Stage performance. We have watched four groups, two performing in short form and two in long form. It was really different being there in person watching improv compared to watching it on youtube. Speaking for myself (Karen) as a non native speaker of English, sometimes it is a bit hard to understand everything that was spoken on stage, which makes me appreciate extra about some of the improv exercises that we have done in class. But it was quite cool to be immersed within the audience and with the actors. They have also done some audience participatory exercises (shouting out a word from the audience, similar to the form in ASSSSCAT), and it was quite cool to see how they developed from one word to a whole scene (imagine, thriller and prosciutto). We also got to have our team dinner in Social House 7, a restaurant that is focused on Japanese cuisine downtown!
What are we planning to do next week
We had a lot of questions that stemmed from the paper about how improv actors will feed on audience feedback, how much audience participation games vs. no audience participation games we should do, if the cast should be familiar with each other, etc. A lot of those questions proved to be unanswered though, and we will need to wait for our actors to come in at some point, and then see from their perspective. Uncharted territory is scary, but fun and full of possibilities though!
We are planning to get the prototype working, as well as finalizing on which actors are going to commit to help for our project. We are hoping that by communicating and interviewing our improv actors, we are going to get some answers that we need.
We have also getting books written by Keith Johnstone, Impro and Impro for storytellers, as well as books on Keith Johnstone's forms, Gorilla, Theater Sports, as well as Maestro.