And we are back from spring break! A lot has happened since then, including the first case of presumptive COVID-19 outbreak in Pittsburgh, transition into virtual classes, etc. Luckily, we have all gotten our machines back, or have managed to get remote access, so we could work fairly normally. We have setup Slack as our main communication system to separate work stuff with leisure/stuff that is more irrelevant to our project, and have started to use Zoom and Trello for our meetings and project management.
Pivot, pivot, pivot
A pivot for our project is the first things that is lying in our face that says "this needs to be tackled." With social distancing in place and not being allowed in the ETC building, our original plan of having the improvisers coming in every week and playtesting with whatever prototype we develop will not work anymore.
For now, we have developed a couple of basic directions that we could work towards:
Communicating with groups that have already been doing Twitch/Improv stuff for a while, such as Show and Tell Live ( https://www.twitch.tv/showandtelllive ) and curious comedy ( https://www.twitch.tv/curiouscomedy/videos ); we will ask them what are some things that they have always wished they could have, and we will develop relevant prototypes for them
Develop a bot that will automate the process of running a show: for example, when an audience member joins in mid-stream and types in a command, this bot will let them know what kind of suggestions we are taking right now, and what kind of game we are playing
Develop an emote overlay effect on top of the stream, and maybe adding some of our own emotes
Developing a unique interaction that will only work for improv on streaming platforms
Approaching the Pivot
We are in touch with the two groups mentioned in our first direction, and our tech members have been working hard on our second and third directions. It is the fourth direction that will really move us into the next milestone of our project, and that is our broadest and most open and versatile direction that we are working towards.
We have gotten inspiration from our Improv II class where we did some improv games through Zoom, and they have worked surprisingly well. Because of the nature of the improv games (instead of scenes) that we played, lag surprisingly was not a big issue. We are definitely incorporating some of these improv games into our playtest.
We have also discovered a way to incorporate those Snapchat filters that went viral about two three years ago as part of our stream. Because there are many filters, and it appears like we could also develop our snap filters, which makes it even more compelling to incorporate these filters and utilizing that as part of our show.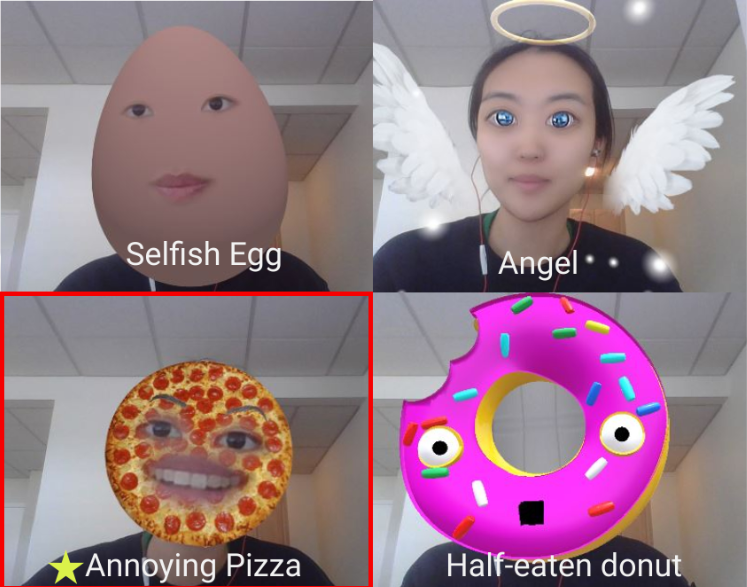 Ideations
We have developed some games that will use some aspect of tech compared to traditional improv, and have listed our setup, technical challenges, and game play process. Here are some examples! And we will be playtesting those next week.
For next week
Next week, we will focus on playtesting with these games, and hopefully being able to engage in conversations with our professional improvisers, as well as the aforementioned improv groups that have already been doing improv Twitch, and we will continue to brainstorm and build.