Hi everyone! Welcome back to week 15 of our project. In this week, we post all of our prototypes on forum,  present our work on ETC Festival, start to wrap up our project and prepare for the final presentation.
Forum post
We post all of our prototypes on Cozmo development forum during this week. Here is screenshot of what we post on the forum.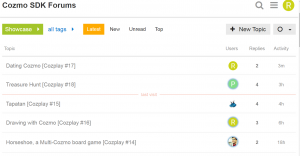 We didn't release all out work in the same day. Since we developed these prototypes based on prompts, we think it make more sense if we post them according to prompts each day. Many developers checked our post during the day and we also get good feed backs from them. We are really happy that a lot of people like our work!
Festival
ETC festival happens on Wednesday. Since we have 18 prototypes, we set up three stations in our room to present work we did through the semester.  We select games for every station so that visitors can try different experience. Station 1 and 3 are more about our work before halves, which station 2 is set up with a projector, showing our work after halves.
Here are some photos from festival: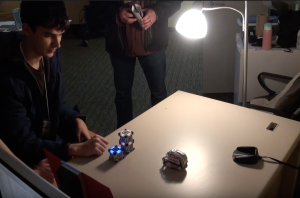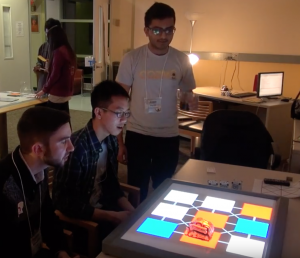 Kaiser and Steve  from Anki came to our project room, and checked out what we have down through the whole semester. Although we shared our progress with them through Skype each week, it is really excited to have them play the games we developed in person! Also, we really enjoy to talk with them. Thank you so much to attending ETC festival!
Interview on Thursday
On Thursday afternoon, Aaron Aupperlee, a reporter from TribLive, interviewed the team with what we have done during the semester. We showed him Cozmo and talked about how we made games and experience through the previous 14 weeks. They really like Cozmo and games we built. Here is the video from their side, and the article can be found through this link: http://triblive.com/local/allegheny/11573023-74/cozmo-tappeiner-robots
Prepare for final deliveries and presentation
Since this week is the second last week of the semester, we start to wrap up our project. For the final deliveries, we are currently working on editing a final video, writing documentations and reports, updating our internal wiki so that the team works on Anki's project can have a clear idea what exactly we done during this semester. Till now, we already have a draft version of final video as well as post reports. We will finalize all these stuffs by the end of next week.
We will have our final presentation on next Monday. Therefore, we spend some time working on the slides, and practice with the team. We will try our best to give a good final presentation next week!