WEEK 2
Important events/things:
Meeting with our clients
Understanding client requirements
Walking around Downtown Pittsburgh with our instructor giving an overview of the street and the architecture styles
Started working on the branding material (poster and logo)
Playtesting session and Composition box
The week started with the first client meeting. Our clients are The City of Pittsburgh Urban Planning Department and The Reimagining Cities Institute (RCI).
After meeting with our clients, we came to an initial understanding on what our clients need from us.
They are expecting us to build a tool which will eventually be helpful for the city planners to visualize their ideas in an immersive way. The other main thing is that we will be a part of a bigger project which has different phases of which we will be the second phase. Our clients agreed on meeting with the team on weekly basis and providing their feedback on our work. The RCI institute also put us in contact with the students involved in the phase 1 of the project.
After the client meeting, our instructor gave us an overview of the street style, architecture style and living style of Pittsburgh. We walked through the downtown Pittsburgh and saw what kind of sidewalks and street styles are there.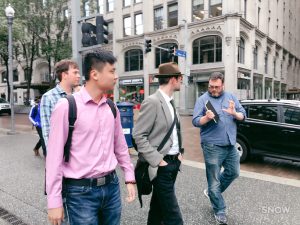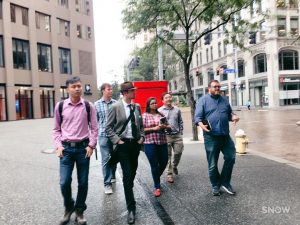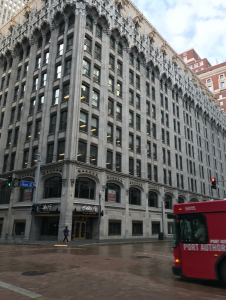 Other than that, our instructor showed us some "interest" points like a green corner at a junction which was constructed to distract people from blocking the junction during a concert as there is a theatre there. Also, we went to this circle where there were chairs and tables with a chain of restaurants surrounding it. The purpose of this place is to give space to people who wait for their bus which will crowd and traffic at downtown.
This gave us ideas on how to design our product.
The team attended the Playtesting session by ETC faculty for we which we came up with our composition box which included our idea of the project. We received some suggestions and feedback of our idea from our peers.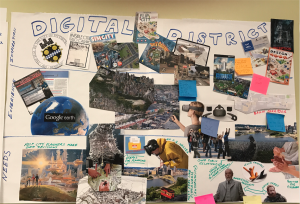 COMPOSITION BOX
We spent the rest of the week by thinking of ideas to design our project and also started designing our branding materials like the poster, logo.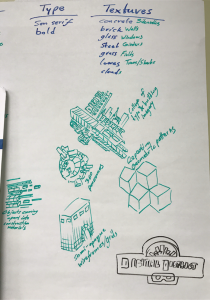 BRANDING IDEAS