This week, the Pittsburgh Pirates had their first home game of the season on Friday. Janice was kind enough to get everyone peanuts, crackerjacks, and soft pretzels to celebrate, and we took the opportunity to hold another playtest – this time with a live game. As fellow ETCers – student and faculty alike – came to the 5th floor lounge to get their snacks, we provided them with Fanfare-enabled devices and gave brief instructions on how to use the Prediction and Set Collection portions of our app. The pirates game was streamed on multiple TVs in the room, and Eric handled the operator side of the app (inputting plays as they happened) while the rest of us gathered feedback from the various users.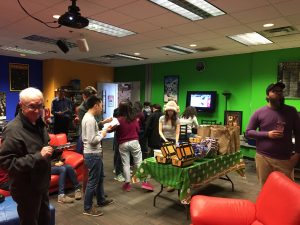 In addition, we were able to do another playtest of the Treasure Hunt activity later in the day. The weather was uninviting, so Zoe and Ramya volunteered to be the participants on the field – and it was a good thing they did, because a bug prevented people on the field from getting any input from the audience! We were able to have one decently-successful round because Ramya remembered where she had put the X's for each section, and led herself and Zoe to the right spot. But when we tried again, with placements that Ramya didn't remember, it was a bit of a disaster. (Lesson learned: test extensively before playtesting!)
Leading up to Friday, the team was pretty busy getting ready for the slew of playtests on Opening Day. In the coming week, we plan to iterate once again on each element, using the playtest findings to guide changes.