We are working on the final document that we will deliver to our clients. This Master Doc serves as a manual for the clients to understand the design, game, and playtests. They'll be able to recreate the experience using the Master Doc along with all the documents listed. Notably, when they replicate the game, they don't have to have the exact environment setup. The design of our game requires a controlled environment and our environment set up document is a reference. BD will need to build and test the environment according to their needs.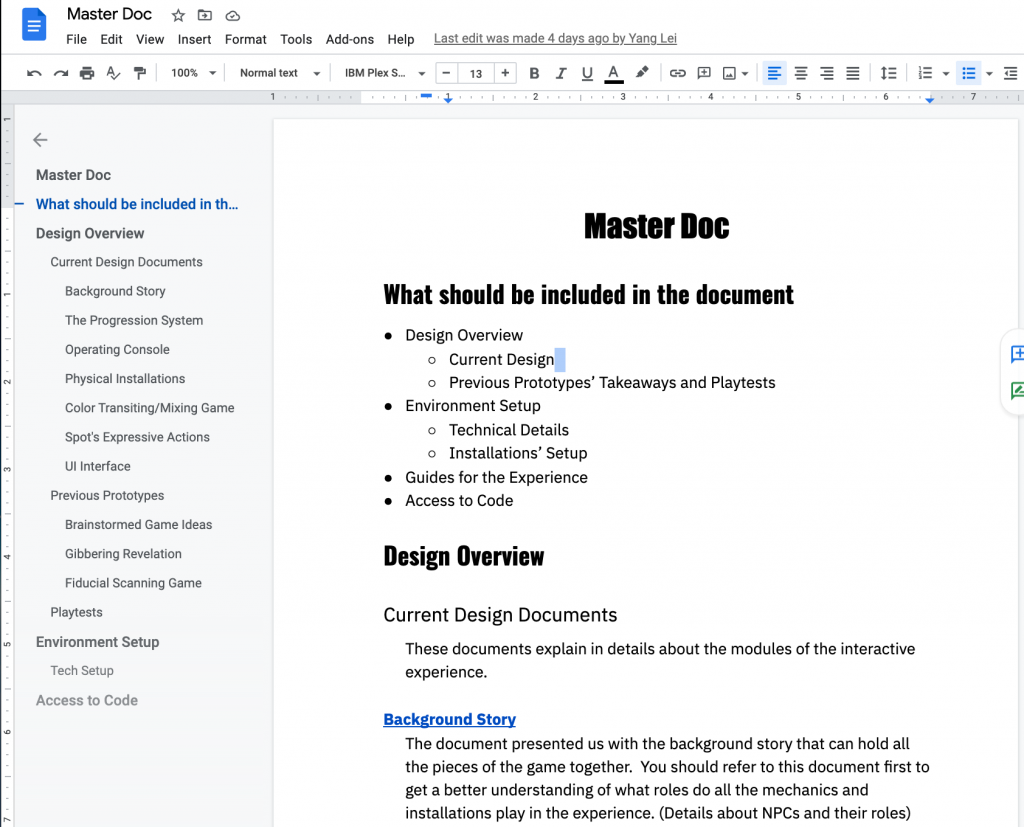 Our final trailer was out
We also did a live session with our client. We walked the client through the full experience. Here're the recordings of the live session.
The client responded postively. He thought the experience will be very interesting for people who haven't had a chance to interact with Spot before. He pointed some interesting different directions of the game. Instead of letting the player controlling Spot, we could have an operator to control Spot for the whole time. The player then could directlt interact with Spot without controlling Spot. This was one direction that could solve the problem of lacking personality/autonomy. In our current design, the player has the most control of Spot. However, in order to show Spot emotional reactions, the operator needs take over the control and make Spot perform certain movements. Compared to the idea that the client pointed out, the player in our game would spend lots of time figuring out controling Spot, which was fun to people who are new to Spot but not to those who have such experience before.
Then we had our ETC Festival!!! This was an traditional event where students at the ETC have a chance to showcase their work and connect with friends, faculty and alumni. This year, we had a virtual festival!!