On Monday, Inksmith had our halves presentation, where we detail our project to the ETC, describing our research and process and showing our plans for the rest of the semester. Josie was able to attend and watch as our client, and we got a lot of positive reception from the faculty as to the structure of our project, our improvement throughout the semester, and our confidence in the knowledge behind our project.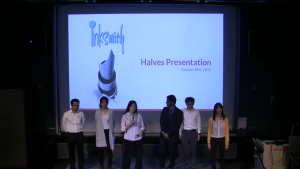 After our halves presentation, Josie sent us the manuscript for our third prototype: Astronaughty. This prototype will reach its completion date on November 20th. We met Josie on Wednesday to go over the art style and mechanics we wanted to include. We discussed going with a "2.5D" art style, where we put 2D sprites into a 3D space where you could move around in 3D. We also talked about having a customizable avatar, and what kind of customization we could facilitated. Josie brought up a possibility of letting the child take a photo of themselves, and put it into an astronaut sprite that would be used as their avatar for the rest of the story. We decided that we should try to get a feel for what kind of avatar selection might be appealing to a child.
The rest of the week was spent on preparing for ETC Playtest Day on Saturday morning. On Saturday, we had around 7 or so children, aged 3-6, come to our project room in the morning and test our prototypes. We had them go through our first two prototypes, though they could also enter into a few other downloaded storybook apps that they liked after they were done with those. We also set up a station at our project room monitor with a few different avatar building systems to see what children preferred. We had:
An abstract, full body non-human customizer,

A human child's head and face customizer,

A transparent astronaut sprite over a Google Hangout camera stream, that children could move around and put their heads into on the stream.
Our playtests for our completed prototypes primarily yielded the same kind of results we already saw in previous playtests, but for the different kinds of avatar customization, we saw that children spent the most time with the non-human customizer, giggling as they chose silly body additions. A few were interested in the Google Hangout stream, though since it wasn't very interactive, they quickly lost interest in it.
Next week:
Next week, a number of our teammates will be out of office for various parts of the week. Hannah, one of our artists, will be gone for the full week at Siggraph Asia. On Sunday through Tuesday, our producer Stephanie and our technical artist Ariel will attend Dust or Magic, a small conference in New Jersey dedicated to checking the current state of and improving the future of children's media and applications. While they are gone, the rest of the team will attend a reading session at the Carnegie Library for our target age group.
Once most of the team is back at the ETC, we plan on completing our scene storyboards for Astronaughty, as well as deciding on the art direction, the avatar customization system, and the main trigger and transition for moving through the story.