While Week 7 saw the team getting ready for the upcoming Half Semester Presentation, Chapter 0 saw some refinements and Chapter 1 saw continued progress.
In response to playtest feedback from last week, Chapter 0 received some care to address some of these concerns. Refinements such as a "next" button for players to click on when they want to continue with the experience as well as notifications on the ba-xi players themselves to signify feedback all serve to enhance the player experience and make going through the interactions that much easier to understand.
Continuing with the programming side, a pixelation effect was implemented for specific moments within Chapter 1. This serves to amplify the digital nature of the world while also acting as a fun transition when certain objects transform.
On the art side, the Inventory UI has been updated. These updates serve to provide more clarity for the Inventory Bar itself as well as the objects within it. More definition and a reduction of the border brightness aid in keeping the Inventory section defined while not completely getting in the way of the experience itself.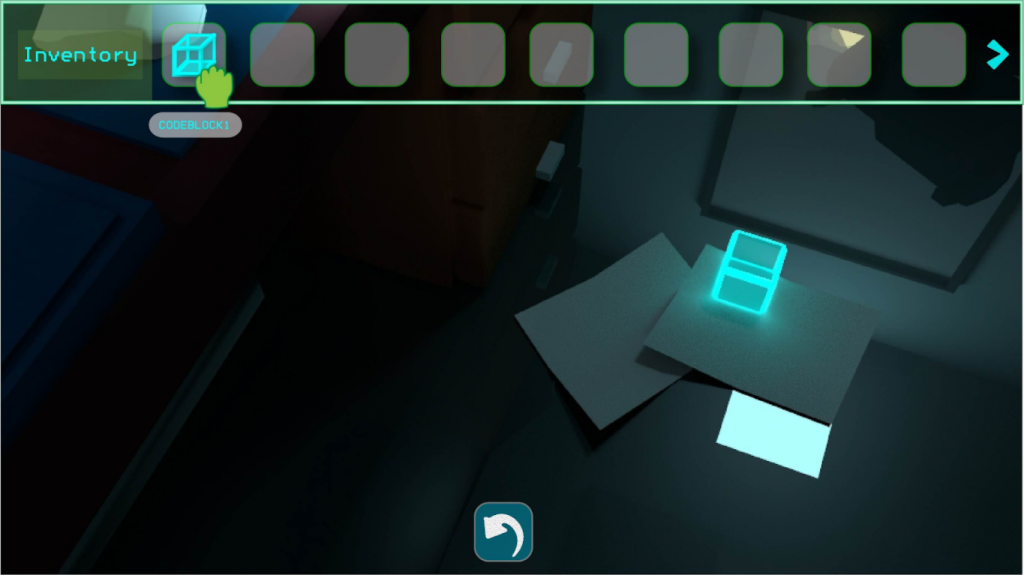 As seen in the Pixelation example, the core of Puzzle 2 revolves around the idea of "Mind Fragments" to gather, which was represented by jigsaw puzzle pieces. How the pieces actually look was up for debate and went through a handful of iterations. Our artist has utilized the digital nature of the world (similar to the Code Blocks) to create pieces with emissive edges. With 2 puzzles utilizing this style and technique, it is clear that visual clarity and unity are advancing.
Design has also pushed forward as well as responded to playtest feedback. Various textual as well as visual moments were edited in response to feedback from both playtesters and faculty, and will continue to grow even as we push with Chapter 1 and start Chapter 2. Pushing forward with Chapter 1 required some of the narrative moments to be tweaked in order to achieve the proper voice and tone.
Chapter 2 design has been quite the gauntlet so far, as explained in previous posts. The big question of what does changing a texture mean in this world still looms large, but the time has come to push forward with a design concept and see where it can go. More brainstorming occurred this week, with wireframes to start forming next week. With Chapter 1 development nearing it's end (in terms of having content from start to finish), we will soon see Chapter 2 begin to rise.
While progress was made and the team stayed on track with their current content, working on the Half Semester Presentation as well as working on the next Chapter of content proved to be more formidable than anticipated. Nevertheless, the team is in solid shape to kick off Week 8 with the presentation and make great strides into the second half of the semester.