Week 12 saw the Interactive Academy team get into some of the more finer details for this project.
With the programmers hard at work these past few weeks working on the gameplay logic, texture editor, and skew shader, we were able to see a summation of all of this work in one demo video for your viewing pleasure. Some noteworthy additions this week include the texture editor UI, screencap functionality, as well as the implementation of the inventory sub-menu.
When it came to the art side, our vision for the texture editor's representation in our world has come to fruition! Taking inspiration from various modern art sources such as mobile and sculpture, work continued with integrating these inspirations with the goals and functions of the texture editor itself: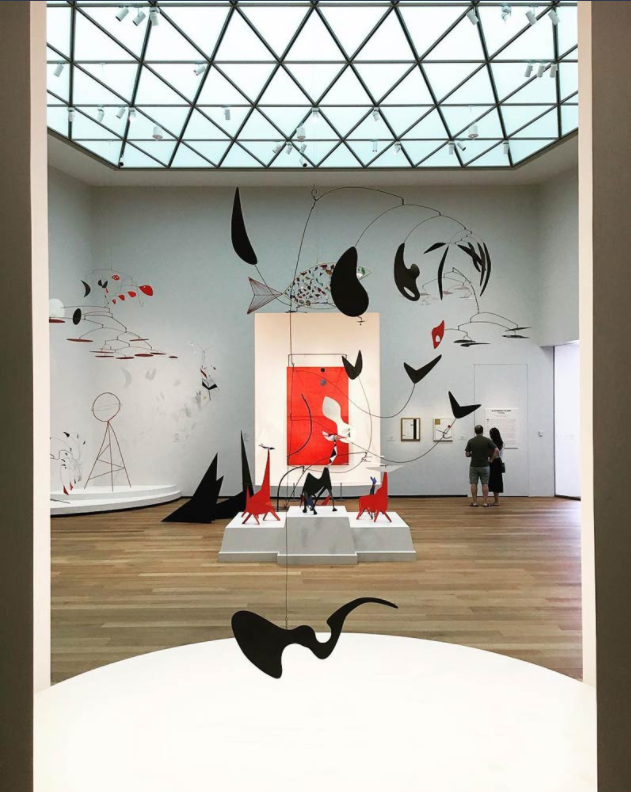 The pools of color on the bottom echo the usage of color in the texture editor while also harkening to the RGB values within the implementation of hex code. This color trio is present not only in the texture editor UI but also in a trifecta of lights in the palm of the hand itself.
Now that we're nearing the end of the project, we decided to get tough and figure out how to really make our experience shine. To that end, we started to experiment with particle effects and other VFX to make certain moments pop out. Since our experience is lacking motion, utilizing moving particle effects will serve to amplify whatever moments we see fit. We knew a particular case in which this was true: when the texture editor comes to life in the second chapter:
On the design side, the majority of the broad strokes are already drafted. Again, it was detail time. The designers brought numerous concepts to the team to see what kinds of patterns would be best for this experience. We realized that certain patterns that had too much ingrained detail would be tough to include since some of the objects are small and oddly shaped. We aimed to have every pattern be potentially utilized in every in-world object. Ultimately, conflict arose with some of the proposed patterns given these constraints, and we went back to the drawing board. We were looking for patterns that could be interesting, unique, and scaleable. Interestingly, one of our designers has parents with experience in architecture and interior design, and it occurred to them to turn to actual tile patterns for inspiration.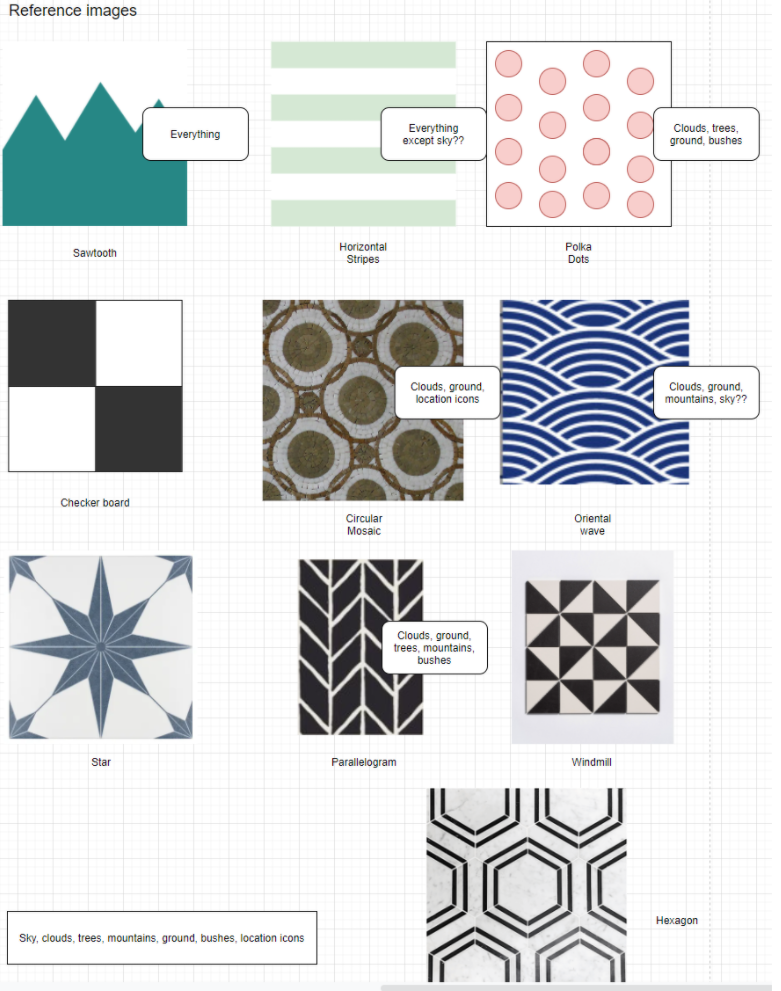 Our writer also drafted interaction text for Chapter 2 just as they did with Chapter 1 and went over these texts with both the team and the client. Everything appeared in order, with the client even noting that:
"The conversation you have created between Alice and Brad is so illuminating. It's a joy to read it as you appear to have fully captured their relationship in the appropriate tone. What is great about this is that you have crammed in some good general edtech learning and student encouragement along with the design specifics within a fairly short dialog exchange".
Playtest Week also concluded for us with over 25 playtesters. After sifting through the data and comments, we came to some important conclusions that we filed under "areas of improvement".
Make adjustments to text speed, colliders, hints to make it a smoother experience.
Implement hinting code blocks and puzzle pieces if guests can't find them.
Provide a menu where guests can navigate through different points of the story that they have already done.
In short, making use of better and multiple forms of indirect controls and overall guidance, in general, could be strengthened. The team decided to focus on bolstering these weaknesses with the aforementioned use of particle effects. To this end, a "polish list" was written for this purpose.
The next few weeks are going to fly by, given a shortened Week 13 due to Thanksgiving and more, so the team is hunkering down in their respective bunkers to make sure everything gets done!