Week 13 saw the team finally being able to playtest Chapter 2 and get more into the details of the project while gearing for the end of the semester.
Chapter 2 was finalized this week, with all of the game logic, chat systems, and dialogue text added in. It was great this was able to occur this particular week as we had a playtest set up which would allow us to glean more information and gather more data about Chapter 2.
While Chapter 2 was completed on the functional side, there were still moments we wanted to include that fell into the "polish" section. To that end, we dove into our polish lists and started to chip away at them in order to really make our project shine. The particle effects from last week were improved, and steps have been taken to utilize particle effects to amplify moments throughout the whole experience.
On the art side, world-building details such as corruption and destruction were embedded in Chapter 1. These little touches just help to push the sense of potential chaos and bedlam that the data transfer wrought on this world.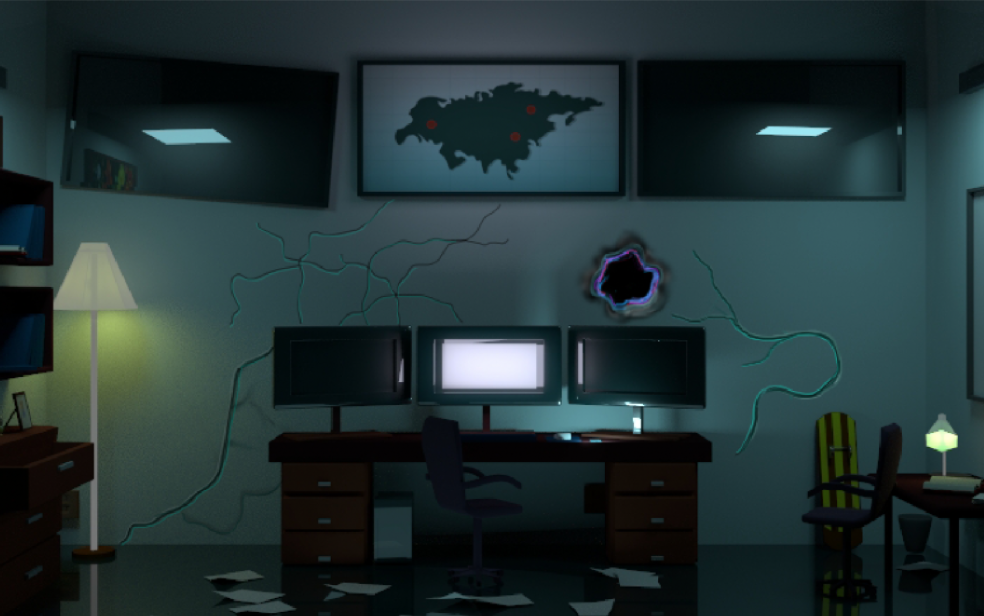 The aforementioned playtest occurred, and we got a lot of vital feedback from the students.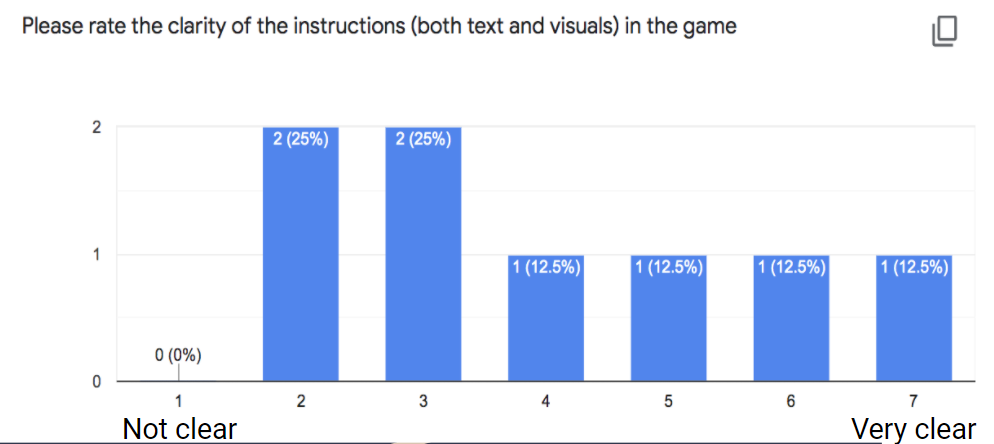 Specifically, it became apparent that we could be a little more clear in our instructions for Chapter 2. While Chapter 2 is intended to be more open-ended and "sandbox-like" than Chapter 1, finding that middle ground between strict guidance and freedom is important. To this end, we considered implementing a "task" button that displays what the next step(s) should be. This button would echo the next objective that the dialogue text gently hints at but in very grounded terms. A big lesson we learned from this project is that sometimes redundancy is ok. This seems to be especially true in an educational environment where repetition can aid in the learning process.
Another key factor we are adjusting in Chapter 2 is the selection of textures available. Survey responses showed us that the patterns are not matching the natural world as closely as the students would have hoped for. Even more so, there is no obvious choice if a student just wanted to do a solid color (even though making the primary and secondary color the same on a pattern would achieve this effect). With some experimentation, we changed some patterns and added a gradient option. This could echo natural elements such as sunsets or patterns on flower petals as well as give off a "digital retro" vibe, while it is our secondary hope that this scheme could also be a better lead into a solid color choice as well.
Week 13 was a much shorter week given Thanksgiving, but the team is pressing on in order to finish the semester off strong. Tasks for the remaining weeks include:
Preparing for Soft Opening (in progress)
Creating our Project Trailer (in progress)
Compiling a Development Journal for our client that could also be used by educators and facilitators (in progress)
Tackling as many of the tasks on the Polish Lists as possible (in progress)