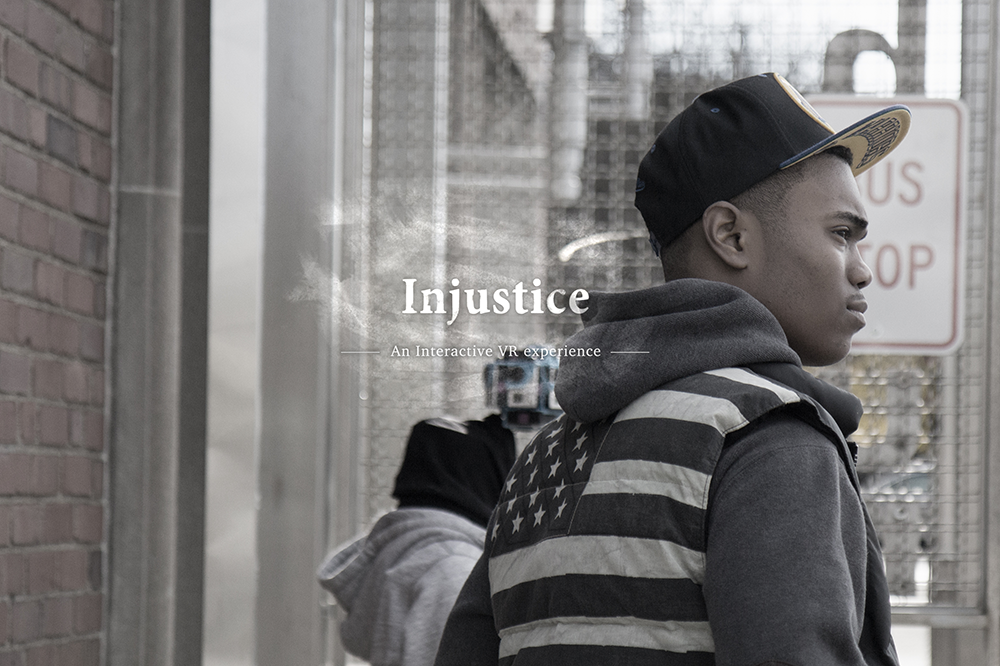 Injustice is a three to five minute interactive virtual reality (VR) experience themed around racially motivated police brutality. In Injustice , guests witness an act of racial discrimination happening in front of them, forcing them to make moral and ethical decisions on the spot. The guest comes face to face with the characters of the story, filmed with live action, and interacts in the space with them directly using gaze interaction and voice recognition.
Injustice is an experience aimed at exploring the emotional impact of VR space versus traditional film.
 Injustice was created by Kalpana, a project team of graduate students from Carnegie Mellon's Entertainment Technology Center who aimed to explore interactive storytelling and build an effective pipeline for it. The issues of police brutality and racial discrimination are problems at the forefront of awareness and concern for America. Kalpana saw an opportunity to shed light on the situation experienced by a disproportionate amount of young African Americans in the country by leveraging the immersive power of VR, creating a level of empathy for the issue only possibly through personal experience.
 When you put on the head mounted display to experience Injustice , you are placed on the side of the street, waiting at a bus stop. You encounter a young black man, greeting you on his way to the gym. He speaks directly to you and Injustice pauses, providing you with dialogue responses that you say aloud to continue the conversation. The conversation and experience flows around how you respond. You also have the option of looking at icons attached to real objects in the scene, prompting him to comment on your gaze. As he leaves the bus stop, the man is approached by two police officers, who stop and frisk him. As the situation escalates, you have the power to call out, comment, and observe, and the situation adapts to your actions. In the end, Injustice 's story is told by you.
(written by Stephanie Fawaz)
Behind scene of Injstice
 Behind scene of Injstice
'Injustice' 360 panoramic view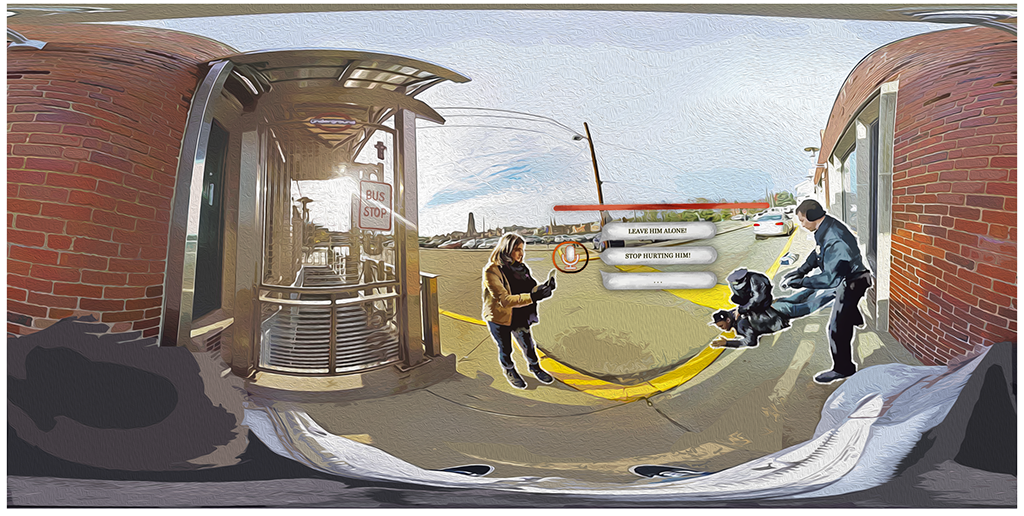 'Injustice' 360 panoramic view + User Interface