Summary
Goal: Present our final presentation and prove that we are well-prepared for our event at the G4C festival.

Challenge: We had 2 days in total to prepare for our presentation.

Did we fulfill this week's goals: Done. Faculty loved it!
Process
Our team presented and answered all the questions from the faculty with confidence.
Looking back at our presentation at Halves, it was a rewarding feeling just to realize how much we had progressed throughout the semester and how our final design successfully reflected each of us. We were very happy with our work and actually…could not believe that the semester was coming to an end. We even talked about collaborating again in the future. That was a great indication of great teamwork!
Final to-do tasks:
1/ Workshop template posted on our website (includes instruction, audio files, script, UI)
2/ Laser cut and assemble 100 masks
3/ Book our flights and accommodations.
4/ Coordinate with Dave to get the iPads and color printer to NYC.
5/ Each of us should be able to run and facilitate the experience in case some of us cannot make it to NYC.
Looking back, below is our feature list and how we prioritized features based on 2 constraints: time and impact these features have on our overall experience.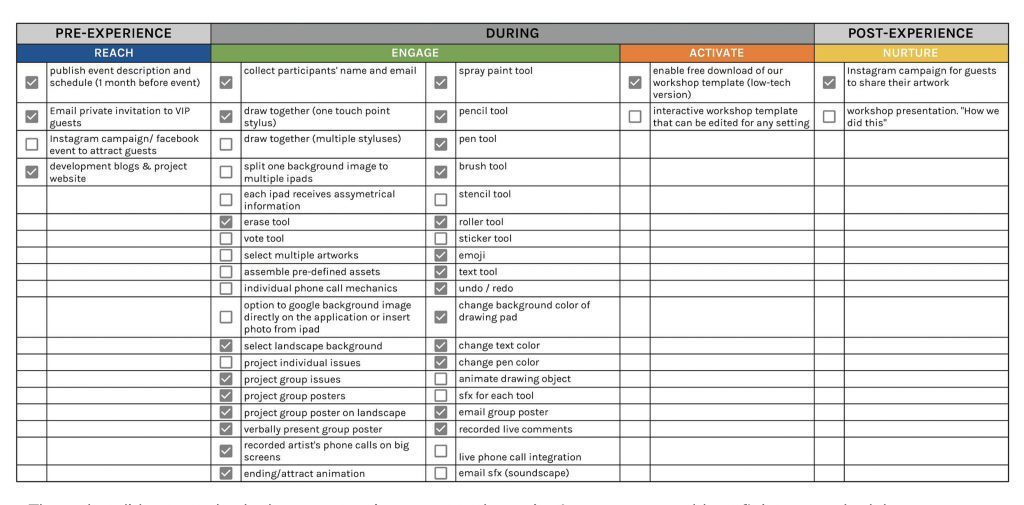 That's it! Our Dad (I mean, Dave) congratulated us once again and asked us to prepare our business cards and portfolio website for the festival because he believed our experience will be loved by the G4C attendees. Summer here we come!
Piggy out!