Summary
Goal: Showcasing our experience to the G4C audience

Challenge: What if something still goes wrong?

Did we fulfill this week's goal: Success!
We are glad to announce that our Piggy experience at G4C was a big success and the participants really enjoyed it. Here are the proofs: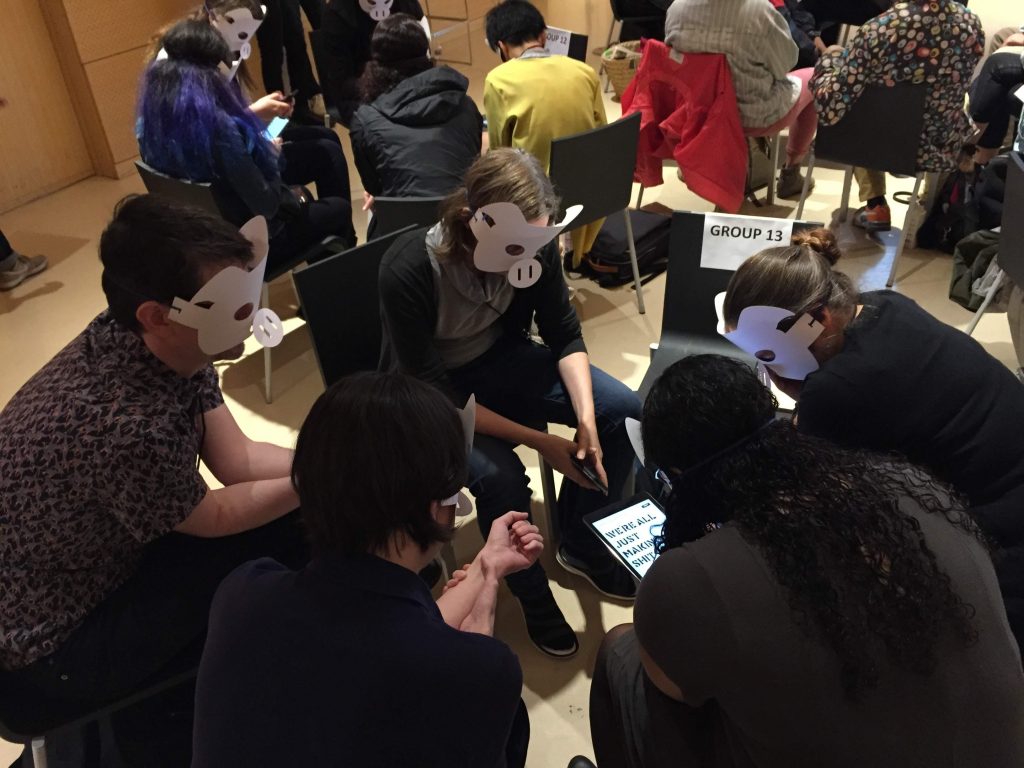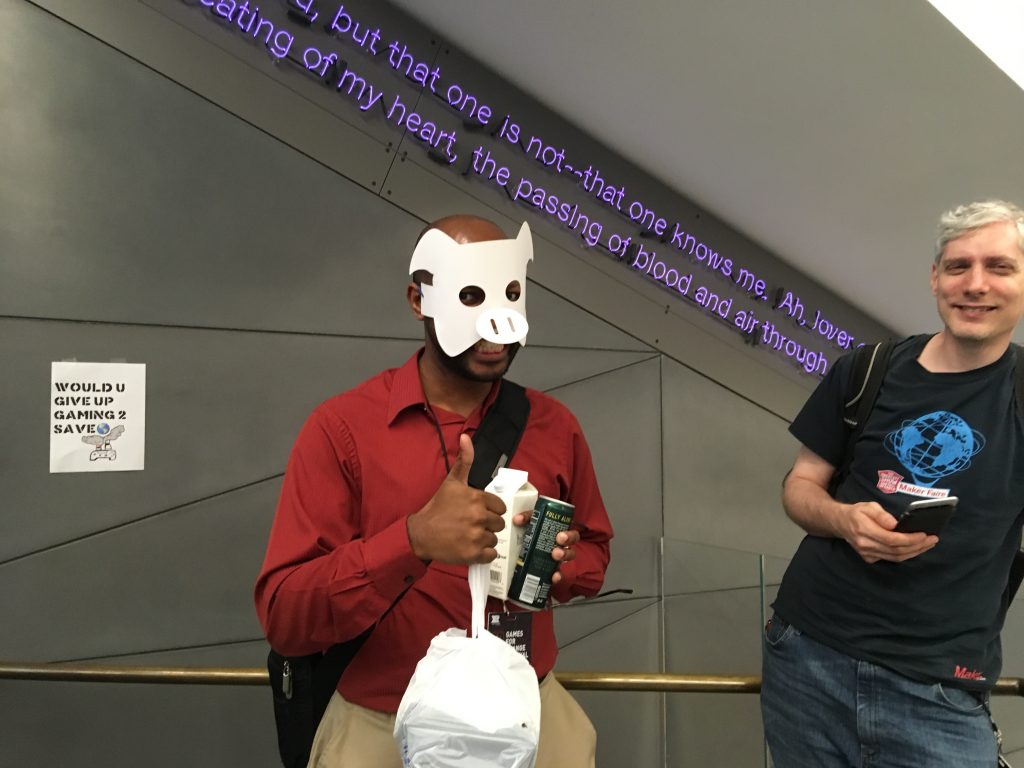 Lessons learned
Got equipment? Mail them to G4C – You don't want to run around the streets carrying printers, computers, and other techy things. That might look cool in Silicon Valley but probably not in New York City, so ask your client whether you can mail your equipment to the G4C's office. Make sure you know who to contact to pick them up when you arrive in NYC. Keep in mind that it is not easy to get a hold of your client or their reps during the Festival. Get important decisions confirmed in emails early on so everyone is informed, and send a reminder 1-2 days before the Festival.
Find a secured storage room at Parsons – Ask your client if there is a secured room for your team to store your expensive equipment and/or work on last-minute setups (if necessary).
Don't estimate how much time you need to set things up – Our experience happened on Tuesday from 1-2pm. We arrived on Sunday afternoon, picked up our printer at Parsons, and settled in the hotel by 9pm. We spent the entire Monday to fix bugs and do stress tests at the backstage/production room. We also booked 2 slots from 9-10am and 12-1pm on Tuesday at the Starr Foundation Hall to get our printer hooked up, sound check, and arrange chairs and tables. We found out at 9am on Tuesday that there were only 8 tables instead of 20, so we had to do a quick playtest with just chairs and make them work for our experience. Be prepared to be flexible with your plans.
Catch me if you can – You can't get on the plane if the name on your ticket does not match with what's written on your passport or government ID. Ariel almost had to book another flight because her Chinese name is spelled differently on her passport.
Watch out for hotel's fake reviews – Check both Booking.com reviews and Google reviews (or any latest platforms your generation has) to make sure the hotel is safe and livable. The place we booked had bed bugs and I got red bites everywhere like I just made a trip to tropical Asia. I had to throw away my luggage and book another hotel for the team, which was pretty sad and chaotic.
Festival first – Make sure your team knows that festival preparation tasks should be prioritized. Once those are done, everyone is free to do their own things.
What's your role – Everyone should know what their roles and responsibilities are in the experience. For us, Kevin was the facilitator; Saumya, Ariel, Zoe were the tech fire-fighters; Ariel also printed posters and handed them out to teams; Zoe and I signaled Kevin when all teams were ready for the next round; I took care of participants who came in late; and all the girls handed out the masks prior to the experience. Great thanks to Dave, Sabrina, and the G4C volunteers for helping us out as well.
When attraction doesn't work, use brute force – Between delish food in NYC and a 1-hour experience created by graduate students, I think food wins. 1pm is not an ideal time. You gotta find ways to get these people in the Starr Foundation Hall. If your charm and dorky Piggy masks don't do the job, scream, ring the bell, or do anything to get their attention. Kevin shouted out about our experience multiple times at the cafeteria. It was effective. We had about 80 participants. 😉
You and me, we're both speakers – My impeccable stalking skill enabled me to learn about the speakers in advanced and send them a private invitation to our experience via emails. I also talked to them at the VIP Speakers' party to make sure they will come. When it's more about your work and less about you, it's less awkward that way.
Prepare for the spotlight – Our team was so exhausted after the experience ended that we did not even prepare for networking. Guess who hid behind the entrance column when a reporter asked to do an interview on our project? Yup…me. He found me regardless. My English became Viet-lish became I-dont-know-what-im-talking-about-anymore-dude-can-i-just-leave-to-the-airport-already…Great podcast LOL.
Media materials – G4C has professionals to take photos and record the whole session, which took about 2 weeks to be released. You will need a large online storage space for the client to send the materials to you. Our client mailed a flash drive to CMU.
That's the wrap for Piggy Banksy, yall. Lots of love and luck!
Tera & Team Paradigm