Our delivery of assignment 4 went well, and we're very pleased with the game that we put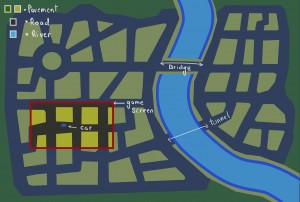 together. Do 'em up Derby is the most polished experience we've delivered so far! On Monday we got our final assignment from Sony: Take what we just built and design a single-player mode for it. We should retain the driving and shooting mechanics of the previous game but design a new experience that is fun for one player instead of four.
Our new story is this: the player takes on the role of a new mafia good getting his feet wet in the business. We're designing a larger, more interesting city, and working on the driving mechanics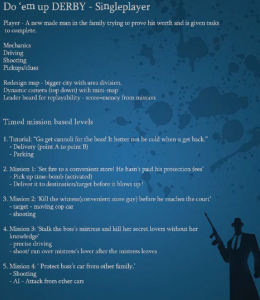 to feel more fluid and fun. The art style and theme will remain the same, but we'll be taking this extra time to really polish up what we've got and add lots of variety to the landscape. The One-sheet for our design is one the next page, so take a look!
On Monday we'll be presenting our work to ETC faculty for "Soft Opening" to get feedback as we look towards finishing up the semester. Check in next week to see how that went and how progress is going with our final cycle!
-Team PlayStation Ignite