This week, True North tackled more prototype integration, story iteration and design execution.  We two meetings this week to tackle our major project components.  In addition to these points, the team is working with the MP class to continue paper playtesting for the story and choices.  The first technology playtest will be on March 14th, and at that point we should see the story integrated with art and how that will affect the choice moments for the player.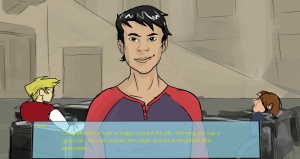 For programming, Hilman, Emily and Tim met with Mike (our project instructor) and Bryan (Senior Research Programmer)  to present a code review, client and server implementation, code structure, documentation and logging information.  In addition to the review, Emily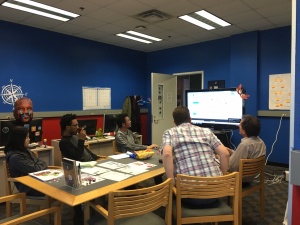 implemented 3 of our dramatic scenes into the prototype, with the branching structure reflected in the choices you can currently select.  Hilman worked on visual fx for the enviornments and point tracking (friendship and integrity points) and also integrated the character emotion tagging for the scenes.
For design, Tim continues to iterate on the design of the interaction, including character placement, in game phone and email interaction, and UI design.  He worked through the script to tag friendship decision points
and created a spread to map tracking those moments.  In meeting with Melody and Xiaowei from the MP class, he outlined pipeline needs for the project in their UI concept designs.  In addition, Emily and Tim have brainstormed about sound in the game, specifically speech voice over (whether or not we can include elements of that) and ambient audio fx.
For the story, Sarabeth met with Chris (ETC Professor), Ralph and Mike (Project Instructors) and Sarah (MP Class) for a table read through of the current version (Draft 6.5) of the script, focusing on story arc and characters specifically.  The story met with favorable feedback, and some concrete points upon which to move forward.  As the team approaches the halves presentations, the story will need to solidify so we can make plans accommodate certain project elements, for example possible voice over elements.
On the Art front, Ross completed in scene characters (to click on as you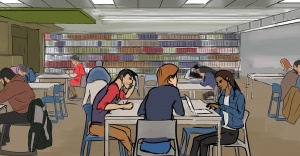 enter the scene), the library scene, additional character line art as well as starting on the cafe environment.  He's also been working closely with the MP class members to integrate their character coloring and bar environment into the game.
Moving forward, the team will focus on implementing the remaining scenes into the prototype, solidifying on a UI design, playtest preparation and continuing the work on the Art assets to implement.  Below are some updates from the week:
Design / Story
Script Read through w/ Chris
Story board review – visual comp. focus
emotion tagging & friendship/integrity meter tagging of script
Phone interaction design
UI research w/ class
Production
MP Class meetings, playtest feedback
2nd Playtest planning – 3/14
Programming
Code review w/ Mike & Bryan
Multiple expression for character
Multiple backgrounds classroom and UC
Scene 1, 2, and 4 with expression
Save data across pages (phone picked up at scene 1, mentioned in scene 2)
Art 
Library environment

Cafe Line Art

Cafe environment
in scene character objects (Ryan, Cat & Priya clickable objects in library scene eg)
Bar objects (beer glasses, wine glass)
Bar environment (MP class to complete)

Angry Ryan Line Art