Team Members
Nagarjuna (Arjun) Varma Harisena
Role: Programmer
One thing that fascinated Nagarjuna aka Arjun was interactive entertainment. He holds an undergraduate degree in Computer Science and Engineering from Amrita University,India. Even during his undergraduate studies, all his projects were different forms of games.Therefore instead of taking up a job as a software developer, like most computer science graduates in India, he decided to follow his passion for creating interactive experiences.
This led him to the Entertainment Technology Center. During the first semester at the ETC, Arjun worked as a modeller and a programmer. This enabled him to explore his artistic side and also to understand all the difficulties faced by the artists.For his second semester, he was a member of the Megalodon team at the Electronic Arts OCCO. Here he learned about new technologies, their implementations, working in a dedicated team and most importantly have fun in the work he is doing.
Currently he is a member of the Playstation Blacklight Team. Here he hopes to learn how to work on a developing platform and create unique, innovative experiences.
Steven Jones
Role: Producer/Sound Design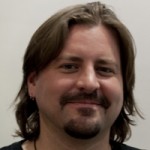 Steven, a displaced Okie in the wilds of Pittsburgh, is a superior being comprised mostly of star-stuff, dreams, and H2O. He is secretly a super-hero at night that fights evil in an alternate dimension as his body sleeps in this one. He can communicate with animals, but animals think he's an idiot and have stopped talking to him. He is a Taurus and loves long walks on nude beaches.
To learn more about Steven and view his resume visit: http://stevenwjones.wordpress.com/
Karthik (KK) Krishnamurthy
Role: Programmer
A programmer with a Computer Science background, Karthik (generally called KK) was inspired by visits to Disney Quest as a child, which made him very interested in building Immersive Experiences. Years of playing Video Games brought out a strong interest in that field as well.
Karthik is a Senior Fellow of the Melton Foundation, an organization that focuses on building intercultural understanding through first-hand experiences including traveling around the world as well as interacting and working extensively with people from different cultural and academic backgrounds.
The ETC gave him the best of two previously separate worlds: the opportunity to focus on his primary interest and skill as a programmer, while providing an environment filled with diversity in terms of skills, ideas, and cultures.
Karthik is very interested in working with tangible and innovative interfaces, and would also like to work on building Immersive Experiences and Video Games, specifically working at interface points across disciplines such as Animation Programming
Chu-Hsuan (Hsawn) Kuang
Role: Programmer/Systems Lead
Chu-Hsuan Kuang is a software engineer from Taipei, Taiwan. He loves to experiment different crazy and creative ideas both at work and in life. Currently he is a student at Entertainment Technology Center at Carnegie Mellon University, where it is his dream playground to try out brilliant ideas for his teams and round them up into a well-polished product.
Ashwin Kumar
Role: Lead Artist
Born in India he had an extreme affinity in art . He was intrigued by the mixture art and technology and thus he decided to pursue a degree in IT and Computer Science .Even in a technology oriented course he used to create art to further his goals of creating interesting experiences like his final year project of flight simulation.Since then he worked in Infosys an Indian software Company to create educational animated videos for the training of their new employees. Having learnt the basics of concept-art at a very young age 3d Modelling and 2D illustration came naturally to him .And his passions include creating art for graphic novels and games
Jing Li
Role: Lead Game Designer
Born in northeast China and grew up in south China, Jing is optimistic, enthusiastic, and vivacious, craving expressions of strong emotion.
Jing's dream was to fly when she was a little girl. Now, her dream is to make everyone feels like flying and change the world by games.
Jitesh Mulchandani
Role: Programmer
Having a strong background in programming, my focus is on designing systems and mechanics that can assist in creating experiences that can educate, entertain and evoke emotions in a unique way. I am an artist trapped in a programmers body.
Advisor
Chris Klug
In the beginning, trained as a theatrical lighting designer, Chris Klug worked on Broadway, in regional theater and opera, and toured with various 70\'s rock n\' roll bands. Before joining the ETC faculty, his last game industry job was as Creative Director for EA\'s MMORPG Earth & Beyond. Between then and now, Chris kept the wolves at bay by designing games. Starting his career with Simulations Publications, Inc., in 1981, he assisted with the design of Universe (a sci-fi role playing game), then moved on and designed the 2nd edition of DragonQuest (a fantasy RPG and winner of a Game of the Year Award), Horror Hotel (something\'s lurking in the shadows of an old Victorian guest house) and Damocles Mission (a sci-fi strategy game). While at SPI he edited the role playing section of Ares magazine. When TSR bought SPI in 1982, Chris and the rest of the SPI staff moved on to form Victory Games. There Chris headed up the role playing games division, and designed the James Bond 007 role playing game (a winner of a Game of the Year award as well) and oversaw the entire Bond product line. At Victory Games, Chris designed a half-dozen more titles and was, for a time, Design Director.
After leaving Victory Games, Chris became a freelance computer game designer and has worked for SegaSoft, TSR, Hasbro Interactive, 3W, THQ, Simon and Schuster Interactive, Target Games, h2o Interactive, Gizmo Games, Westwood Studios and GT Interactive. Some of his computer game credits include Star Trek DS9: Dominion Wars, Europa Universalis, Duke Nukem: Time to Kill, Diamond Dreams Baseball, and Aidyn Chronicles: First Mage. For eight years, Chris was Vice President and chief Creative Officer for Diamond Dreams, Inc., a company dedicated to developing and marketing world-class computer sports simulations. For the last three years, Chris has been Creative Director at Cheyenne Mountain Entertainment in Mesa, Arizona, working on Stargate Worlds, an MMO based on the Stargate television franchise. In addition to teaching at the ETC, Chris has taught Interactive Storytelling at the Art Institute of Pittsburgh and the Art Institute in Phoenix. Chris is a member of the Writer's Guild of America West.