(By Ruchi Hendre/03012020)
Work Done This Week
This week we had to commence work on our project remotely. To assimilate to online meetings and co-ordinating with our instructors and the client to communicate our project trajectory, this week was full of new challenges.
PlayTesting Through VR
We have decided to shift our playtesting efforts to VR, and hope to be ready for the upcoming ETC PlayTest re-scheduled on April 6th-7th.
After having a meeting with ETC Faculty Mike Christel, Ningshan and Lu have started work on building this VR system which will simulate the Kenner room and glass wall and the interactions we have come up with till now.
VR System will provide a good way to showcase the proof of our system at the softs to our clients and faculty. Below is the wireframe design for the backend editor.
Backend Editor
Backend Editor system implementation has begun, Lu has given the wireframes for the UI Design for the system.
Ruchi is doing the implementation of these wireframes, the software stack being used in python3 and the tkinter library. This backend system will be uploaded to github with a tech manual to download and use the code.
The Backend system will contain a module for data visualization as well.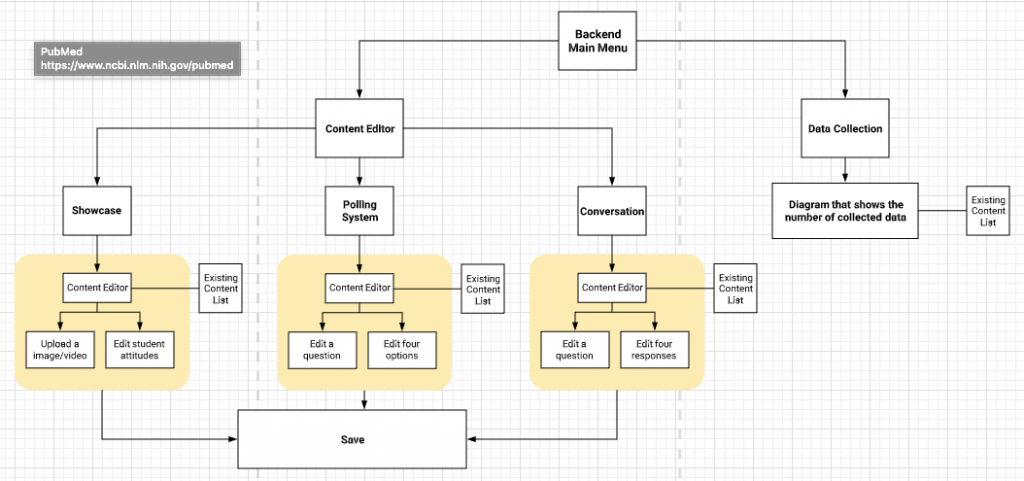 FrontEnd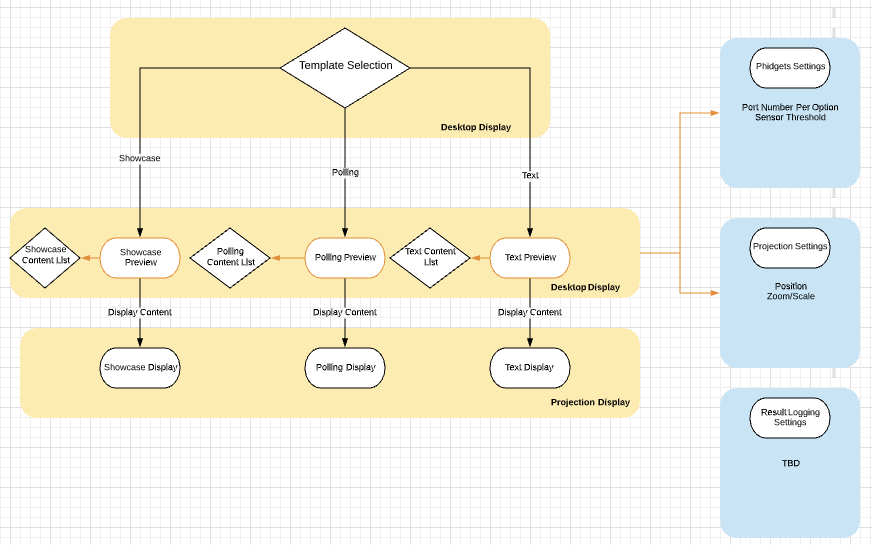 Ningshan and Lu had developed the flowchart design to connect between front-end and back-end. We hope to embed the front-end templates into our VR simulation for testing, so consider the timeframe and needed assets, we chose the conversation template to start with. We planned to start off our playtest with environment setups and then the interaction with the conversation template.
Design Manual
We talked about cooperating with the client's classes and students to create contents during this semester, not only would it help examining our design, but also start accumulating contents for the display. We met with the client, and decided to focus on the national and cultural identity, and how language plays an element in self-identifying. The plan is to create sample template to help future users create contents for the system, and we plan to start by working with these classes to ensure the instructions and prompts are clear and efficient.
Challenges
Remote work posed us the challenge of not being able to install the films at the room, test the phidgets and have weekly playtests at the Kenner room.
Changes Made
VR Playtest Pivot to some extent took care of playtesting and simulating interactions with phidgets. As far as the physical installation of films and phidgets is still an issue.
Plan for Next Week
Our plan for next week is to keep on track on implementing our VR Playtest system, developing the frontend conversation template, backend editor, design manual templates and start thinking about our video trailer.