Zhiguo Lai is a new game programmer, 3 years game designer, and 20 years game player. I become a game designer of Netdragon Websoft Inc after my graduation from the optic in Sichuan University because I was inspired by the fantastic game World of Warcraft which I have played for 9 years. I want to design dreams for any other players just like WOW designers did. So I come here to chase my dream about becoming a better game designer for my player.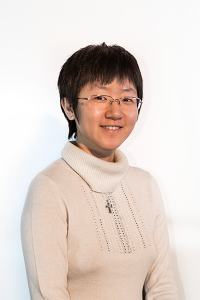 Lotus is a Game Designer and Gameplay Programmer. She came to ETC with a background in Computer Science and great passion in game and game spirits. She especially like innovative games that bring deep inspirations to players. She plan to work as a Designer or Gameplay Engineer after graduation. She is self-studying shader, design, narrative, communication, math and gameplay programming in her free time. She is ambitious to be a real master and has the determination to achieve her goal by everyday efforts.
Derrick is a game designer, storyteller, and producer and raised in Centerville, Ohio. Derrick couldn't be happier to join the amazing network at the ETC and can't wait to make the next generation of interactive experiences. He can't imagine his life without video games, nor would he ever want to.
Shitong is a programmer and an artist interested in creating powerful interactive experiences.
Jue is a UI/UX designer with a focus on interactive experiences and emerging technologies. From creative problem solving to quick prototyping for VR/AR products, she is passionate about creating delightful experiences in collaboration with engineers and artists.
Faculty Adviser
Named in 2013 as one of the five most powerful women in gaming by Inc. magazine, and in 2011 by Fast Company as one of the most influential women in technology, Ms. Kelley co-curated the groundbreaking 2012 exhibition Joue le jeu / Play Along at La Gaîté lyrique in Paris, France. She is co-founder of Kokoromi, an experimental game collective, with whom she has produced and curated the renowned GAMMA event promoting experimental games as creative expression in a social context. In Autumn 2009, she was Artist in Residence for Subotron at Quartier21, MuseumsQuartier Vienna, where she created "SUGAR," a cross media collaborative event featuring an original game, scent-generating networked electronics, and couture fashion. Ms. Kelley was Creative Director on the UNFPA Electronic Game to End Gender Violence, at the Emergent Media Center at Champlain College in Burlington, Vermont.
Heather's extensive career in the games industry has included design and production of AAA next-gen console games, interactive smart toys, handheld games, research games, and web communities for girls. In 2008, she was Kraus Visiting Assistant Professor of Art, and Adjunct Faculty at the Entertainment Technology Center, at Carnegie Mellon University, where she organized The Art of Play symposium and art game arcade. Her biographical sex game concept with Erin Robinson, entitled "Our First Times," won the 2009 GDC Game Design Challenge, and her game concept "Lapis" based on female orgasm won the 2006 MIGS Game Design Challenge. Her newest sex-related piece is the OhMiBod iPhone application, which uses the iPhone touch screen to control a connected OhMiBod brand vibrator.
As moboid, Heather has created interactive projections using game engines such as Quake and Unreal. Her experimental art game work with Lynn Hughes, "Fabulous/Fabuleux," was created at Montreal's Hexagram Institute and integrates gameplay into a full-body interactive installation using custom "squishy" interface hardware. For seven years, Heather served as co-chair of the IGDA's Women in Game Development Special Interest Group. She holds an MA from the University of Texas at Austin, where she is an alumna of the Advanced Communications Technologies Laboratory.