Project Introductions:
Hello, and welcome to a new semester! We are the project team CloudWorks and our responsibility for this semester is to redesign and redevelop the traditional ETC Fall Festival to a remote, virtual format.
The ETC Fall Festival typically occurs in the first half of December and serves as a chance to highlight the work done throughout the course of the semester. While the first immersion semester course, Building Virtual Worlds, is a major element of that work that gets shown, first-year work from Visual Storytelling and second-year work from semester-long projects gets displayed.
The in-person festival usually sees guest lists of about 300-400 individuals and accommodating this many people remotely is a major challenge of ours. Among our other project goals include:
Developing a solution beyond a livestreamed lecture
Allowing attendees to play/interact with the actual projects
Creating a space to allow for passive socialization
First week's tasks:
This week we did research into both existing solutions for remote conferences and event planning and possible avenues for our own created technologies. While much of this research was incredibly helpful for understanding what has been done, it has helped to define the festival for us along more specific lines. The festival is not a conference. The festival is a celebration of student work. Its the culmination of several months of hard work, not a series of lectures about a specific topic. The remote conference tools are helpful for giving context into the space, but they are not the ultimate direction that we wish to go in. From a technological perspective we began looking into plug-ins for Unity that would allow for voice and video chat, as well as streaming integration.
We also sent out surveys about the festival to first-year students, second-year students, alumni, and faculty. These surveys were designed to get information about what expectations of the festival typically were and what each group felt were the most important parts of the in-person festival that we should be trying to capture in a remote format.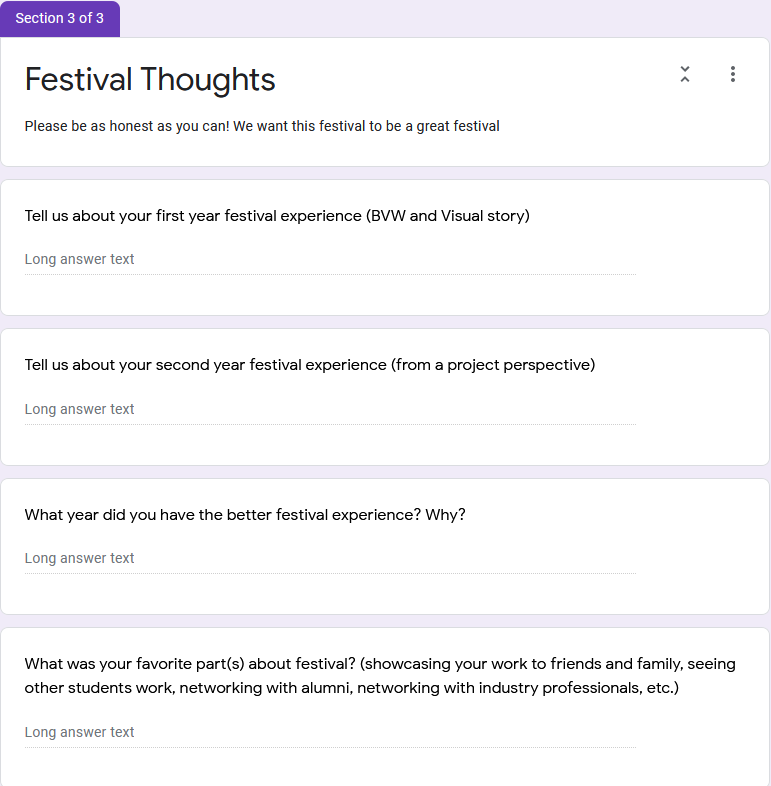 There's also the question of settling on our team roles, core hours, advisor meetings, and team name, which we got through this week.
Next week's agenda
Next week our goals are to go through our survey responses, talk with faculty and external resources about remote event planning, and experiment with our first chat-oriented prototypes.