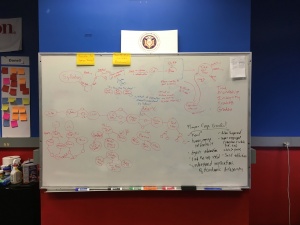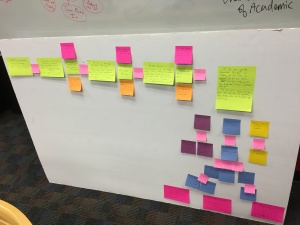 This week, True North focused on story iteration and our upcoming quarters presentation.  For story iteration, we've broken down the narrative into key plot points, and continue to revise interaction and scene interactions.  The story currently concentrates on the core violations of cheating, plagiarism and unauthorized assistance, but a core focus for the narrative is an emphasis on engaging our user through compelling story and character connection.  To do this, we must find ways to avoid falling into stereotypes and cliches.  For a topic with an educational goal in mind, this will continue to provide challenges.
For quarters preparation, we've developed a preliminary prototype with one of the drafted scenes.  It shows a rough outline for what the interactions will be as well as transitions between scenes.  Right now, we have our introduction scene represented, along with a couple of choice and decision interactions.  Though the art is still incomplete on it, the prototype gives a rough gauge for how we envision the experience to feel.  It also gives you a visual context in which to place the characters in the existing story draft.
Looking ahead, discussion with the "Home Team" class continues to bring up important elements to consider for the experience design.  We have made a time to meet with them outside of class so that I (Sarabeth) can discuss with them in person my process on the story creation, writing and direction.  Because I have not been able to attend the class, story iteration in partnership with the class has been slower to evolve.  We hope that interacting with them outside of the class this week will give us a better way to approach our partnership with them, and keep momentum for the experience iteration moving ahead.  Ultimately, we want to have the class partner with us on story, design and playtesting in a way that efficiently gives ownership to all parties involved.
Below are some additional updates from the week.
Design / Story
Iterated on story
Completion of draft #3, iteration for draft 4
Finishing one-page design documents for story outline and game systems
Created class and syllabus outline for "Programming and Society" (in game course)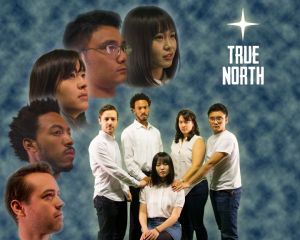 Production
Established extra mtg with "Home Team" to go over focused collaboration eg story
¼'s prep
Team photo – pictured at right
Programming
Display text box
Merge emily's code and tim's code for movement and transition
Start work on scenes to show on 0.25
Art
Finalized branding materials
1 pose per character, 4 total