Team VT Newsletter
2/17/2012
Twenty-five percent of the way through the semester and the media buzz is rapidly increasing bringing the excitement to a whole new level. After an article in the Pittsburgh Press ran during the middle of last week some new attention was brought to the High Point Pittsburgh Project and Team VT and it didn't stop there. Following the online publication Team VT appeared on the front cover of the Pittsburgh Post-Gazette as well as a spot on KDKA's five o'clock news report.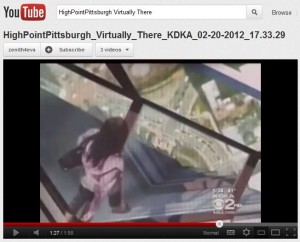 There was a buzz of topics throughout the Entertainment Technology Center regarding our virtual undertaking and it has made the team all the more enthusiastic as we move forward in this exciting development. Last Friday our team pitched our project criteria and production plans to groups of faculty in hopes to get crucial feedback from individuals looking at our project from an outside perspective. We were given many thoughtful bits of insight that helped reassure the team about ideas we had as well as let go of a few ideas that may have ended up hindering the project in the long run.
Following the television interview this morning we met as a Team to make final decisions on design elements, interactive kiosk placement and interface designs. We combined the notes from faculty with the core ideas we believe will produce a successful experience and devised a plan. Over the next two weeks we will be putting these experiences together to begin our first round of testing in the beginning of March. This is a time when we will be calling on the followers of the project to help give vital feedback to the design and over all functionality of the game. We will be having multiple iterations of playtests between now and the end of the semester to ensure our deliverable will be intuitive, easy to access and enjoyable for all who visit.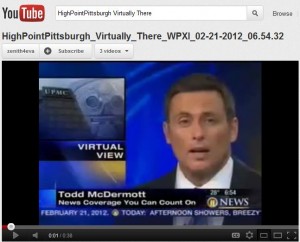 Tomorrow Team VT will meet again with the architecture students to go over their progress with updating the building models as well as developing the interior design plans. February 28th is the deadline we asked for a completed building model that we can begin to build upon. They have lots of work to do in terms of turning a purely architectural rendering into a fully built 3D space that can be navigated as if walking through the real life space. It is a tremendous undertaking but we have full faith in the three students, Richman, John and Dan to pull through and deliver something spectacular.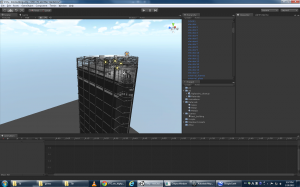 In the few weeks until playtesting we ask that you follow our progress on not only this site but the High Point Pittsburgh Facebook page, Facebook group and the High Point Pittsburgh Twitter feed as well for the latest updates on all aspects revolving around the Virtually There project.