Team VT Newsletter
(4-9-2012)
Following a week of solid iteration that included many new kiosks, features and content creation we are narrowing in on the super fine details which make this experience complete. Lots of time was spent on the light maps within the space. These are the digital files that enable surfaces to appear realistic as if the sun really is bouncing, reflecting or casting shadows throughout the space. Backend changes were made regarding the integration of the many new accounts we've created for High Point Pittsburgh that will hopefully be used in the future for continuing to show new content surrounding this project.
The Gigapan functionality has finally been added to the main scene complete with a GUI (graphical user interface) that will give the guest the ability to zoom and pan as if on the Gigapan Website. Finally, lots of debugging has been taking place to ensure as we had the final bits of content there will not be any major crashes or failures.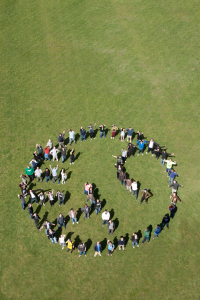 On Wednesday we had a break from our workloads to have a little bit of fun for a change. (Although we all greatly enjoy the work that we are doing; otherwise we wouldn't be here) Our client, Dave Bear brought over Paul Heckbert from CMU and Gigapan to shoot a Gigapan image from the roof of the Entertainment Technology Center. Prior to their arrival Cintia and I used some nails and string to section off a proportionately sized ETC logo in the front lawn. By the time Paul and the Gigapan mount arrived we had nearly fifty ETC students gathered to join in the unique photo opportunity. First we had the growing group of student's line up along the nearby railroad tracks stretching over a hundred yards from the edge of the camera's field of view. Following the railroad setup the students moved into position to form the ETC logo. Both of these photos turned out wonderfully and the Gigapan image will soon be posted to Gigapan.org as well as linked to via the Team VT site.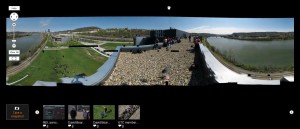 With the fun over we returned to our quaint room to get back to work. Cintia returned to updating and converting the Web-player website and the Facebook Application to new accounts that will be given to our client come the completion of this semester. Siddhesh continued to work on adding the GUI functionality to the Gigapan image within our simulation. Sun-Moon began work on a new introduction/tutorial scene that will provide guests with an adequate demonstration on how to explore the space as efficiently as possible. This tutorial will have a high tech, futuristic feel and its own artificial intelligence guide named Sara.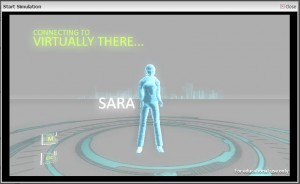 This coming week we are aiming to prepare for our user testing on Friday when we make our links public and email them to willing participants. Our goals by that date include a completed tutorial, polished and implemented sounds throughout, all kiosks in place and functional as well as a "bug-free" environment. If you would like to be a tester for our project please send an email to McChesney7@gmail.com and I will provide you with the necessary links and information. As always, thank you for your continued support and hope to hear from you soon.