For 2011, WMS has once again partnered with the ETC to explore technologies that can redefine the casino experience, and "7" students have been chosen to lead the way. Game design for the casino industry falls under a strict set of unique parameters that will challenge "7" at every step, resulting in a final deliverable that's part video game, part location-based attraction. Their goal is to exceed expectations set by previous WMS projects, with a proof-of-concept that's both outrageously fun and disarmingly engaging.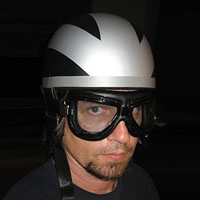 JIM DOUGHTY
An avid motorcyclist and collector of rubber Halloween masks, Ohio native Jim Doughty brings to the ETC more than 10 years of experience in Graphic Design for a number of diverse industries. Jim's design skills are matched only by his uncanny ability to insinuate himself into circumstances that offer a creative outlet, and he considers the Master of Entertainment Technology program at CMU to be the ultimate endeavor.
His background also includes marketing, copy writing, live broadcast television, and digital video production.
When he's not building virtual worlds for Carnegie Mellon, you might find Jim relaxing in the Pittsburgh suburbs with his wife, Xiaohong, and daughters, Geneva and Amelia.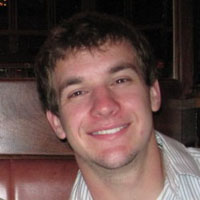 TYLER EMPTAGE
Before coming to the Entertainment Technology Center, Tyler graduated with a Bachelor of Science in Computer Science from the University of Notre Dame. While at Notre Dame, Tyler worked to broaden his horizons in areas outside of the College of Engineering, taking 3D art, design, and photography coursework in the Department of Art, Art History, and Design.
Applying his experience of working alongside both engineers and designers, Tyler participated in one of the university's first interdisciplinary courses, developing a design proposal with computer science, industrial design and business majors for the College of Engineering's new research and multipurpose building, Stinson-Remick Hall.
Tyler has always had a passion for good storytelling and the visualization of themed environments. He is excited to gain additional insight into the video game development and location-based entertainment industries through trips and project work in the coming year.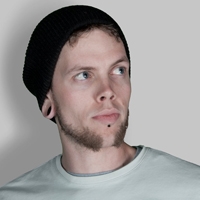 ETHAN GAGORIK
Is a 3D artist with a background in Video Game Art and Design. Prior to entering his Masters program at the ETC he spent time as a freelance 3D modeler, animator, texture artist, and video compositor. A recent graduate of the Art Institute of Pittsburgh, he completed his undergrad in March 2008 with a Bachelor's of Science in Video Game Art and Design. His focus while at the Art Institute included a full range of skills used for game development, art, and animation.
Outside the realm of 3D art and game design he is a practitioner of both traditional and mixed martial arts, with training in over 12 combative andnon-combative styles.
JING JIN
Jing Jin was born in Wuhan, China. Since an early age, Jing has been interested in video games especially RPGs. Jing is a mechanical engineer who specializes in thermodynamics, heat transfer, energy conversion and HVAC. After graduation from college, instead of continuing education in Mechanical Engineering, Jing decided to chase her childhood dream designing and making video games. In BVW2010 Jing was a 3D modeler who made the environment and characters for the team. Currently Jing is in WMS project and designing casino games. In Jing\'s spare time, she uses Adobe Flash to prototype small games, and UDK to build game levels.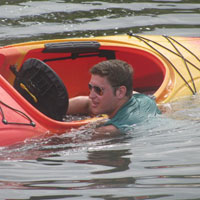 ALEX KOWALSKI
Alex has long aspired to be a part of the entertainment industry. His interests include animation and film, video game design, and working with new media of all sorts from website development to software applications for educational and commercial purposes. He finds the technical and artistic sides of these fields equally fascinating and can devote hours to searching for a technical solution to a problem or perfecting the smallest detail of a website or animation, becoming fully absorbed in the task. The best part is that it seems no more like work to him than getting lost in a video game. Having a job that he enjoys within an industry for which he has great respect and appreciation is his primary career goal and he sees his enrollment in the MET program as an important next step toward realizing this goal. He is excited to be a member of the ETC community, where he hopes to further develop both his technical and artistic expertise. He also expects his participation in the program to help him focus his broad interests and more fully discover his own creative voice as he searches for where he might best fit within this exciting field.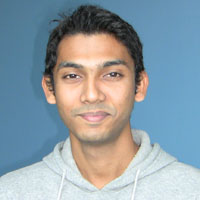 ROHAN MASCARENHAS
Born and raised in the small town of Mangalore, India, Rohan was a very active boy. Among the top in his class in both academics and extra-curricular activities, he always considered himself to be a jack of all trades but master of none. All this changed when Rohan aka Masci began playing video games competitively. He became so involved in the analysis and research of video games that he decided to pursue a career in the gaming industry. The bachelors degree in Information Science and Engineering from RV College, Bangalore, got him job offers from several IT companies, but he rejected them and took a year off to learn animation tools and get a clear idea of what he wanted to do.
After hearing about Carnegie Mellon's Entertainment Technology program, he realized that this was the perfect place to achieve his dreams. In the first semester Rohan worked on BVW projects as a 3D modeler and animator and helped create 5 novel worlds. He also applied his movie making skills in Visual Story class assignments. by the end of the semester Rohan realized that he wanted to specialize in Game Design. For the Spring 2010 semester, Rohan is working on a project for WMS Gaming as a game designer.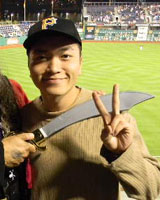 CHENYANG XIA
Chenyang was born in Harbin, a city in northeastern China nicknamed "Ice City". Growing up, he loved playing video games with friends and family, and now this love has led him on the path to make video games in the future.
When he was a second year student at UCLA, his roommate showed him "The Last Lecture" on YouTube. Chenyang has been inspired and dreaming to study at the ETC since then.
Coming to ETC has been one of the best decisions he have made. The feeling of being surrounded by people with the same intense passion fills his days with encouragement. He's still new to game programming and design, but he's working hard to learn more every day.
Besides playing video games, Chenyang enjoys drawing and playing music instruments when he has spare time.