The final stretch. After a long semester, Simtopia was able to give their final presentation to their department to showcase the work that they made throughout the semester as well as to pinpoint milestones made from halves to finals. The last week for Simtopia consisted of final presentations at the ETC, final play-throughs (which is when faculty comes to visit the teams' various project rooms to try their experience and/or give feedback from the final presentations), and the last client meeting of the semester with Maxis Studios for a wrap-up.

It was definitely a huge win for the team from halves to finals as the team was able to clarify points made to showcase their experience of what it was – a technical prototype that demonstrated interesting interactions in virtual reality. This was then documented and sent off to their client for their research purposes. Simtopia just wanted to make the prototype to feel fun and exciting for guests to try as they explored these interactions – so if it felt game-like, then that's totally fine!

Check out the ETC's Final Presentation and Simtopia's presentation here starting from (1:36:00): https://stream.etc.cmu.edu/projects/2018-semester-3/finals/day2/
Please also feel free to check out our final trailer that shows a recap of our experience here:
This week, the team also hosted their final playthroughs, as mentioned, with faculty members at the ETC.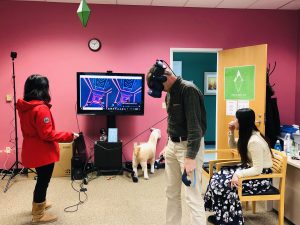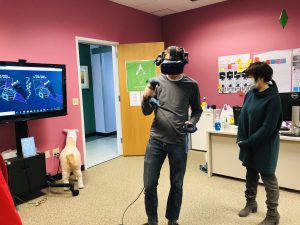 Simtopia felt great that after a semester full of a lot of challenges and exploration, that they were able to end on a high note with a great product.

The last steps for Simtopia comprise of handing off the final build prototype to their client and their extensive design guide documentation to help Maxis with their announced game project title.

Thanks for tuning in this semester with Simtopia! See you soon!