About Us
The Project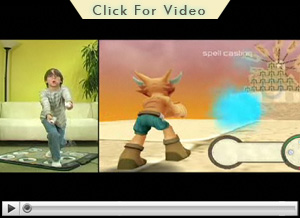 The Winds of Orbis is the first action-adventure video game to combine the Nintendo Wii Remote and Nunchuk with a Floor Pad. This student-pitched project from the Carnegie Mellon University Entertainment Technology Center is a continuation of a proven concept that blends action-adventure and role-playing games with exercise games to form an entirely new genre: an Active-Adventure.
Our mission is to help players young and old feel better by doing what they love. In addition to revolutionary gameplay that focuses on cardiovascular activity the player can expect a deep story and meaningful experience inherent in action-adventure games. The Winds of Orbis pushes the boundary of movement based games and players can expect a true full body experience.
Step into the shoes of an onscreen hero and fulfill your destiny as the champion of Orbis. Battle ferocious enemies, avoid obstacles, climb amongst the floating islands in the sky and rediscover the power of your ancestors. Players will experience something totally new as their movements map to the character onscreen and will be immersed in a new universe where nothing is as it seems. The world is at your feet... can you save it?