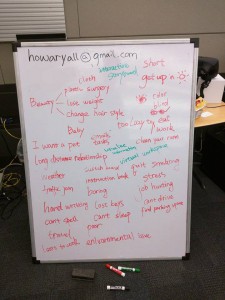 Happy Martin Luther King Day! This week started from Tuesday. We brought our five ideas to our advisor meeting with Carl and Heather. Together we went through all the ideas and discussed about the possibilities and constraints. Other than the plastic surgery idea, the rest were all entertaining-oriented. Our client Carl suggested us come up with more practical ideas to solve real world problems for users.
On Wednesday, we visited Occipital in San Francisco. Occipital is the company who provided us the structure sensors for this semester. We were all very impressed by their work. They were very kind and sat down with us to discuss about our ideas. We got very positive feedback from them and valuable suggestions. They also answered many of our questions and concerns. As for practical usage, they mentioned the most popular fields are architecture, military, investigation simulation, instructions, medical and furnitures, etc. In the end, they demoed their latest projects to us and they were super cool. We were very grateful and got inspired a lot from this visit.
On Thursday and Friday, we were mainly focus on research and brainstorm about more practical ideas. We started with researching people's real problems by asking our parents and friends. Then we listed all the real world problems on the whiteboard and went over each of them to see if we can solve it by AR:
First, many of the problems were based on laziness or bad habits. The challenge is how use AR to help people form a good habit. There are some Apps use nurturing experience to build emotional connection between users and virtual creatures/plants in order to gradually help[ them form a good habit. We found out that the "Fish Tank" concept might be a good approach to this kind of problems.
Secondly, beauty problems were very popular as well. We had an idea for plastic surgery. However, the plastic surgery needs strict accuracy of all the face features. The scanning process can only deliver a similar geometry of the face, it looks real together with textures on. It might be more practical to make a hairstyle changing app rather than plastic surgery. Another possible approach could be previsualization for fitness problems.
Thirdly, we had an idea of a story creator for film/animation makers/students. The composition of characters and environment is very important for the film/animation making process. Traditional storyboard can solve part of the problem but it really depends on how people draw it and how others understand it. Also the camera angle and movement is better to be shown in 3D environment. We wanted to provide an interactive storyboard tool to quickly visualize the scene and presented in 3D, so users can easily edit the components inside and change camera angle. It could also help them to better convey the message to the team.
We listed other 2-3 ideas to be discussed next week before advisor meeting, including training, interior design and other pre visualization applications.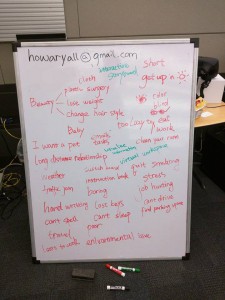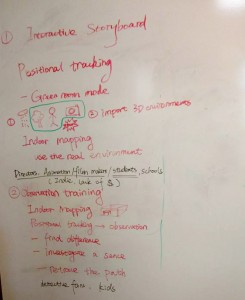 Additionally, our programmers started to work on the initial prototype for iPad. We plan to settle on one or two ideas next week and start to prototype.
Week 2: Can we solve a real world problem for users?