On Monday, we had our Soft opening presentation. We first introduced the project, the client's needs, and our deliverables to the faculty. Then we explained what was our experience and story looks like. Finally, we showed them the map and demo videos of the highlights. In the end, we left 5 minutes for Q&A and live demos.
The feedback we received was:
Clarify your final deliverable for client

Clarify what your game is highlighting

Find a better way to walk us through the experience for your final presentation and final play through.

Iterate on documentation for overall clarity and usefulness for your client.
To respond to the feedback, during the client meeting, we re-checked the final deliverable with our client. They need documentation and code. They don't need any hardware or props we made.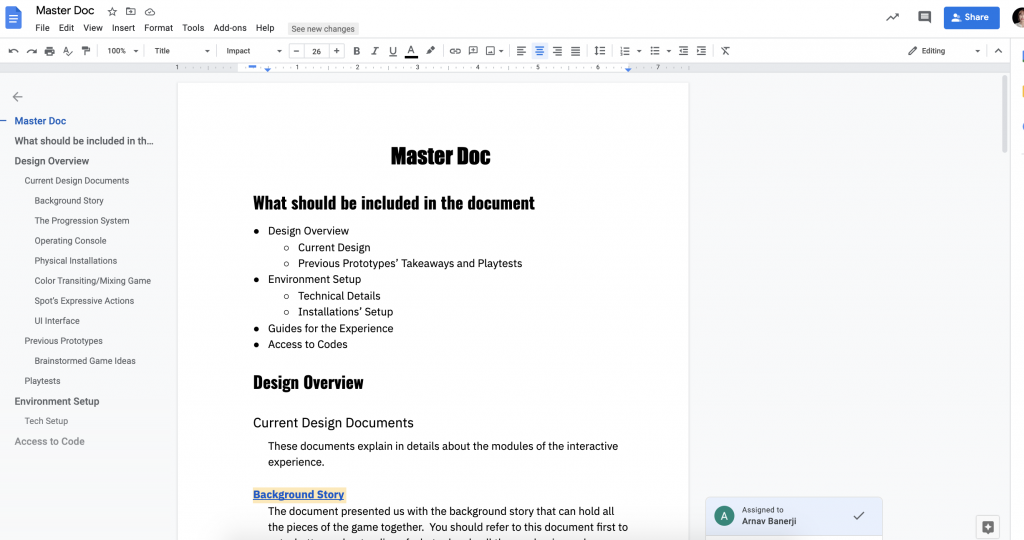 We walked through this master doc and confirmed that those documents listed are what the clients need. We also confirmed that the client wants to explore the possibility of using Spot is a unique gaming platform and to create a game to elicit people's positive emotions and should be long enough yet hold people's attention. The feedback could be used to validate whether it's fun and worth people's time. We'll make sure we explain how our documentation helps our client during the final presentation.
We'll also hold a live session at the ETC for the client next week. The format of the live session or the recordings could be also used for the final playthrough. However, during the final presentation which is 15 minutes, we still planned to show the video clips because we wanted to emphasize the design process, iterations, playtesting, deliverables, and lessens learned.
To share about what went well from the producing prespective:
We checked carefully about the client's needs when the semester started, which really helped us stay on track when exploring different directions. We worked under lots of challenges that we didn't expect at the beginning – lack of experience in (physical/ location-based game), design challenges, covid restrictions, client requirements and hardware problems. However, we responded to those challenges by learning constantly and adjusting our strategies quickly enough and finally created a game that satisfied most of our client's needs.
When we had trouble designing a game centered around Spot, an industrial robot not for human interactions, we looked for help from Jesse. Jesse gave us valuable advice, which was to explore fun activities Spot can do. We followed that advice and it turned out to be a great direction. When our first prototype didn't work out well, we learned from the playtesting results and immediately started experimenting with new ideas. When we heard that we were not able to go to the ETC after Thanksgiving, we planned accordingly by leaving UI, sound feedback, and documentation touch-ups as tasks to finish after Thanksgiving. In order to iterate our work, we held 3 different types of playtests with more than 20 playtesters. We even held a paper prototype playtest virtually, which went well and we gained valuable feedback.
There were lots of examples like this. We kept tackling those problems and learned from feedback without giving up. Finally, we found a great direction that solved the design problems, incorporated our previous experimental outcomes in a fun and meaningful way, and satisfied our client's needs. We really appreciated all the help from the ETC faculty and the clients.