Greetings from team Bravura!
We wanted to fill you all in on some of the design directions and ideas that we've been discussing.  As mentioned in our newsletter last week, we pitched four different design ideas to our client and faculty advisor, Jiyoung Lee.  These ideas included a user friendly voice-to-sheet music digital audio workstation (DAW), a ball dropping game utilizing physics and time to connect to music, a maze-like line drawing activity exploring elements of musical harmony, and a node based design where the distance between shapes creates musical input.  The team and Jiyoung were interested a design direction that combined the DAW and maze ideas.
As our goal is to allow anyone to create music, we wanted as little barrier to entry into our experience as possible.  While some people may want to use their voice to share melodies in their head, some people may be more comfortable using their hands or a musical instrument.  We want to accommodate both of these input methods, allowing our guests to sing or draw on the iPad to control a pitch graph line of their melody.
We are considering two different modes for our application.  One of which is a structured level-like experience where preset chordal patterns and level designs guide a user to create their own melody that fits within these harmonic constraints.  This mode will be used to introducer users to our way of visualizing music, and have them see how melody fits into larger harmonic structures.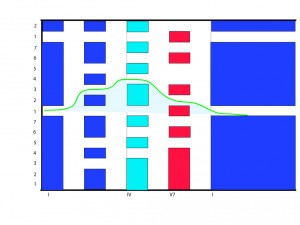 Pictured above is a sample "level" and melody using the first mode of the maze design.  The y-axis represents pitch of the melody (note: the number on the left side is the scale degree, though the guest may not see this).  The x-axis is time, so as you can see, our level design is essentially a pitch graph with obstacles.  Those obstacles, colored by their musical function, are the constraints of a harmonic structure we chose for this level.  The above design represents the most basic classical harmonic paradigm.  If the guest creates a melody that goes between these obstacles, it will sound pleasant to the ear .
The above mode is definitely limiting, especially compared to the original DAW pitch idea.  So for the second mode,  we want to make a sandbox style interaction space, where the user is not constrained by the maze shapes and harmonies we decide upon, but can avoid them all together or create their own.  Though they'll still be restricted to notes within a certain key, they can now sing or enter any melody they like and choose the appropriate chord/maze structures.  They'll be able to do all of this without needing to know a single thing about music!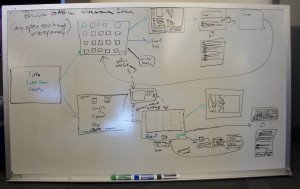 Above is a possible basic flow chart of the experience.  Another feature included are the ability to pinch and zoom between small parts of the song/level and more macro level parts.  Also, play back in both modes will be accompanied by sheet music for the melody that they have written.  The guest will be able to see the connection between the line that they drew and actual music being written on the page.  Additionally, automatic audio accompaniment will be generated to fit the melody and harmony to further enhance the experience.
An important final note about design, is that none of these ideas are set in stone.  As you may know, things change down the road based on technical requirements, play testing, and the possibility of new and better ideas entering the fold.  While the experience described may be an effective one, it is only a broad template for what we are trying to accomplish and is open for change.  In the end, we want to create a musical application for guests ages eight and up encouraging them that composing music is something that they can do and be proud of.