This week, the client told us that the story we would be working with over the semester would be one of the reality TV shows on Verizon's video platform, Go90. The client did not initially know which reality show our project should focus on, but did give us two examples to review: Road to Race Day, and The Runner.
Thus, our first order of business for the week was to investigate these shows. We found that Road to Race Day is a documentary-style reality show about a NASCAR team, and what they do to prepare for a big race. On the other hand, The Runner is a competition show where teams of Chasers have to track down a Runner who is sent to mysterious locations across America. To figure out where the Runner is headed, the Chasers must decode riddles. The show also had an interactive element in which viewers would help the Chasers solve the riddles by posting answers on social media platforms such as Twitter.
The team thought that The Runner was a good candidate for this project, because it was already attempting to engage viewers in off-screen content (riddle-solving) to aid the Chasers. However, because the show was already completed, we were not sure that the client would want us to create additional storytelling elements for it. Therefore, we decided to focus our brainstorming not on The Runner specifically, but on competitive reality shows in general. We reasoned that for any competitive show, we could follow the model set up by The Runner and engage the audience in challenges that contributed in some way to the challenges faced by the contestants.
To that end, we made a Composition Box of thoughts regarding trans-media storytelling for competitive reality TV, and took it to a brainstorming seminar held by ETC faculty member Mike Christel. There, we collected information from our peers regarding which portions of their favorite competitive TV shows they would want to experience, and what questions they had about our proposed project. After the seminar, we sent out a survey to students and faculty, so that we could get more insights into the kind of extra content fans of competitive reality TV shows would be looking for.
Composition Box 1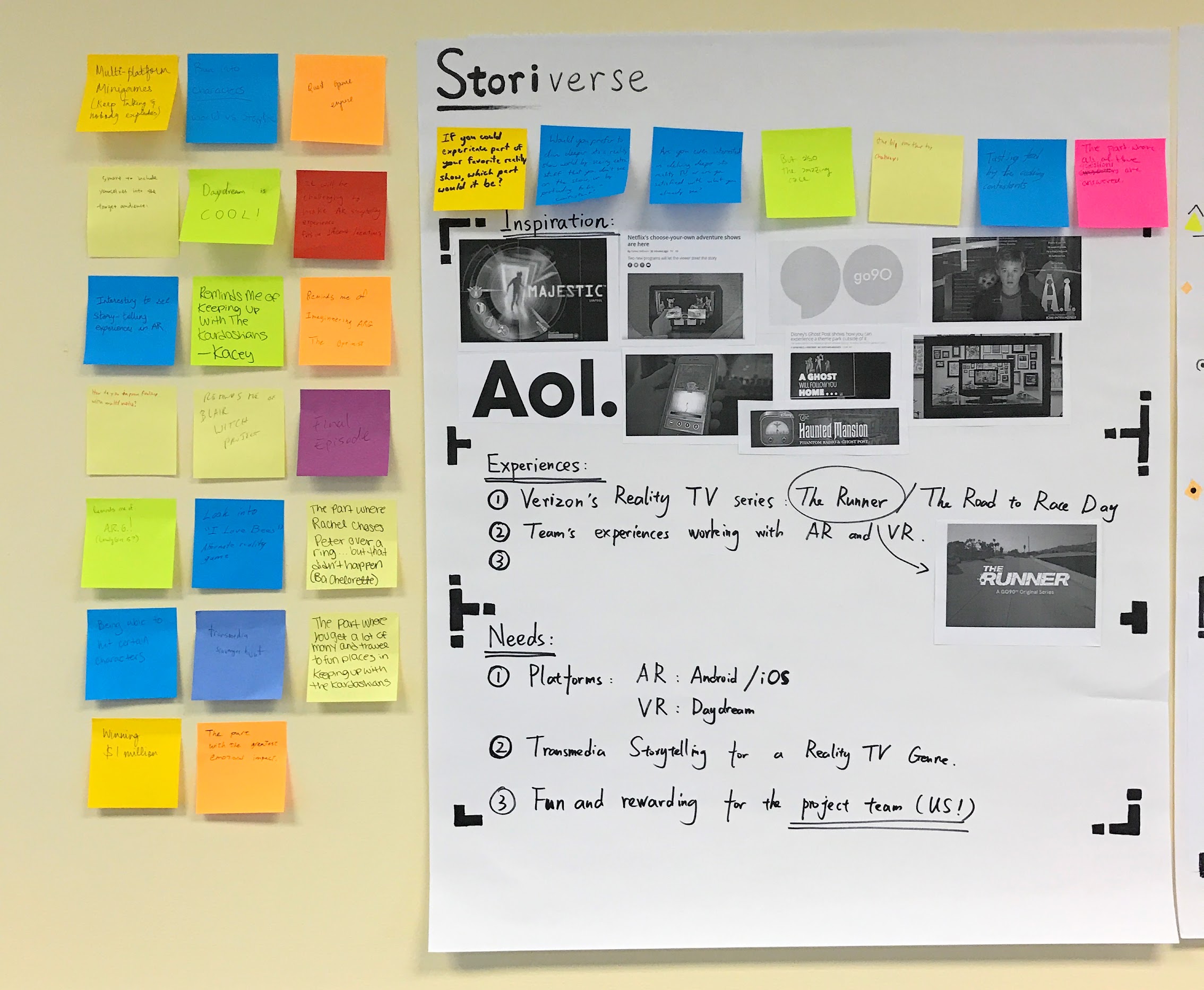 Composition Box 2 (Inspiration)